Relentless branding and marketing extend luxury to the masses. But like America in the 1870s, famously called the "Gilded Age" and not the "Golden Age" by Mark Twain, our purchases are no longer quite so luxurious. Luxury has lost its luster, Dana Thomas explains, in Deluxe. Penned in 2007, when the luxury goods business grossed revenues of more than $157 billion, Deluxe chronicles a well-known capitalist arc. Initially an artisan works small, emphasizes quality, and grows a business. At a certain point, however, the business either stalls or is radically transformed through the injection of new capital and new models. It is the move from proprietary capitalism to managerial capitalism, a process that I'd wager is known by that name by Ms. Thomas but not stated in her book.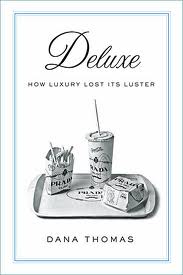 Within the luxury goods sector, the aggregation of "brands" under large holding companies, coupled with the advent of Chinese manufacturing, completes the story. Massive amounts of wealth are created by mass-market sales of what had been artisanal creations of clothing, luggage, accessories and scents. Luxury brands no longer are known by the quality of their components are manufacture. They are known by their branding, and ironically, it is easy to produce a counterfeit of a good whose primary distinguishing characteristic is ornamental, like a logo.
Thomas writes briskly. Her narrative, driven by a journalist's curiosity, is tight and clean. She visits designer houses, factories, and board rooms. She talks with designers, sales people, marketers and consumers. Her arguments make sense.
And yet . . . nestled within this book is a better book struggling to make itself heard. The concepts Thomas presents are simplified, Cliff notes versions of oft-analyzed economic phenomena. The linkage of consumerism with mass markets and identity is a staple of economics, history and popular culture. One does not have to quote Marx or Veblen, but there are powerful ideas from the 19th century that support and scaffold much of Deluxe. Thomas, however, eschews the complicated or complex.
People appreciate and crave quality. They are willing to pay for it, too. The democratization of luxury without quality renders luxury an empty category, a ripe opportunity for the entrepreneurial.  The disruptive power of technology is facilitating multiple answers to the question of what the future of luxury will be. I believe that there are three paths: traditional luxury, internet-funded artisanal, and technologically transformed bespoke.
Traditional luxury will become ever more important as the luxury brands are challenged to retain the purchases high-end customers. Fashion houses are already familiar with the challenge of expanding couture just enough to make profits while maintaining a distinction from mass production. Brands respond by splintering into different labels, each of which is produced under different circumstances with different materials. However, consumers' demand for quality requires something more than red and black labels. One strategy is to create an entirely new entity; another is to horizontally integrate by purchasing a smaller, more luxurious brand.  One fascinating new strategy is that some companies that have lost their way now create "heritage" or "legacy" sub-brands to make a commodified value statement. For these firms, the aim is to recreate quality from long ago and to reconnect with consumers.  Levi's and Dickey's are two such firms, but examples are legion.
Another path to luxury comes from the ability of the internet to allow a manufacturers to control growth while maintaining quality. Competition is ruthless and relentless, to be sure, and customer reviews and the power of social media can whipsaw firms. That said, good quality and customer service can redefine a luxury good and be profitable. For the mid to lower end of the market, Etsy is primary marketplace for the hand-made, but many others – and a good search – will reveal multiple choices for inquisitive consumers. Artisanal firms in this environment can define themselves in different ways, too, offering an advantage over larger companies. Manufacturing only in America, or committing to sustainable manufacture, are two such distinguishing paths.
Finally, high-tech bespoke, be it from a 3-D printer or a fashion-site with made-to-measure clothing, is an increasingly viable option. The technology is not perfect, but it is getting steadily better and more reliable.
I used to believe that my desire for quality made me an outlier (interestingly enough, the name of a clothing company). After reading Deluxe and giving the matter some thought, I think that I'm on the crest of a trend: internet-enabled purchases from small, non-marketed companies with strong value-statements but no wide brand recognition. In other words, luxury will return to its roots.