Back in the day I lived in Brooklyn, near the Gowanus Canal. It wasn't fashionable then, though the signs of gentrification and development were discernible if you looked closely. The neighborhood had character. And if you were polite, listened, and happened to be in the right spot at the right times, you could meet the neighborhood's characters, too.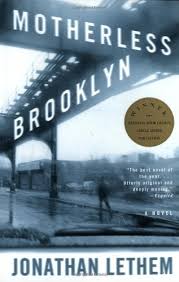 Jonathan Lethem's Motherless Brooklyn is a detective story about that part of Brooklyn. Published in 1999, when I was nearby, it takes the idiosyncrasies of the hood and blows them up into something special. There's murder, love, deception and more deception. Driving it is the wise guy narrative of Lionell Essrog, a self-taught detective with Tourette's.
Lethem is a talented and prolific writer. What makes Motherless Brooklyn so interesting is the mixture of genres, deft plotting, and the wisdom of Essrog. He's a smart man, a smart-ass, and a good egg – an Archie Goodwin (if you know Nero Wolfe) or Travis McGee. Detective stories with that kind of voice, written in the hands of an accomplished author, are reliably entertaining.
Motherless Brooklyn is a good book but an even better read.
David Potash