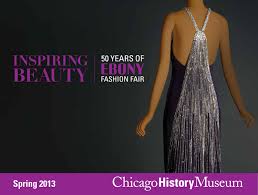 Past the velvet ropes and the purple walls, it's possible to catch a glimpse of high-fashion stylish mannequins at the Chicago History Museum. Text and image are on the walls, but reading the title – Inspiring Beauty: 50 Years of Ebony Fashion Fair – makes little sense to the uninformed. Wandering in, fancy dresses are next to outlandish costumes are next to beautiful gowns. It is more than the eye can take in. The clothes radiate expense and seem more like works of art than items for sale.
The outfits are meant to be worn. Through video and photography, is possible to see the artifacts on models and as clothes. Read more wall texts and start to imagine the fashion fair, and the clothing and the show take on different meanings. Issues of gender, body image, class, globalism,  race and racism reverberate. The exhibit looks at the introduction of high-end fashion to the African-American community from 1958 to 2009 through a traveling road show sponsored by the community's leading magazine. It is fascinating, educational and not didactic. It makes clear that fashion can be much more than clothing and the Ebony Fashion Fair had significance well beyond consumption.
The Fashion Fair was the creation of Eunice W. Johnson, who along with her husband John H. Johnson, created a very successful publishing company aimed at the African-American market. Benefiting from the rising circulation of Ebony, their most popular magazine, Eunice Johnson started the fashion fair to raise money for charities. She visited Paris fashion shows and designer houses across Europe and the US, developing a network of contacts and relationships. Back in the US, the fair was booked throughout the United States. It featured African-American models, bringing high-end fashion to African-Americans in an entertaining and accessible way. Attending the Fashion Fair was a major event. Videos and recollections of Johnson make clear that she was an extraordinary woman.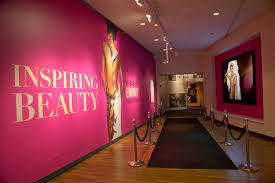 The show contains dozens exotic dresses and ensembles, ranging from the demure to the outrageous. It explains the context of the fair and gives a good sense of what it would have been like to attended. They were lively, theatrical events that spoke to the growing economic power of African-American women. The exhibit explains, postulates, and makes visible – and is grounded in the real. The clothing can engage without explanation or tags. It is that interesting and the explanations of the fair highlight a community that was little known by white America.
Collectively, Inspiring Beauty shows that clothing, above and beyond something interesting to look at, can have surprising social power. The right fashion can, indeed, inspire.
David Potash