America's criminal justice system is most challenged – and most ineffective – in African-American communities in high-crime, high-poverty areas. Once a culture of violence begetting violence takes hold in these neighborhoods, crimes go unpunished and justice become an abstraction. The costs for those who live and die in these areas is horrific. Sadly, broader society often turns a blind eye – and often has for centuries.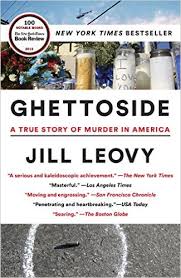 Jill Leovy, a Los Angeles Times reporter, investigates this and more in Ghettoside: A True Story of Murder in America. Its focus is one murder, the shooting of Bryant Tennelle, a sweet 18 year old African-American male with a future ahead of him. From that crime, though, a window opens on another world – a world that needs our collective attention. The victim's father is Wallace Tennelle, an African-American detective with LAPD who lived with his family in South Central LA. A well-respected cop and father, Tennelle brought up his children in a way that we can all connect with: good children, good values, and high hopes. You want these people to succeed. You root for them, even though we know that the odds are not positive.
Leovy maps the neighborhood, its history, its residents, and the police who try to bring some sense of order and justice to what is, in essence a war zone. She writes with patience, understanding and compassion. She is deeply interested in understanding why the cycle of crime is happening and what it means to those around it. The killing is senseless, like almost all murders. In a culture of honor, poverty, no real order and easy violence, however, it becomes easier to understand why it happened.
We hear the voices of the community: the people who live in city and the police who patrol it. It is an unforgiving environment. Leovy does not romanticize. However, Ghettoside has a protagonist detective, John Skaggs, who is outstanding at his job. He represents order, or the possibility of an ordered society. Skaggs is tireless and very much believes in the pursuit of justice. Brilliant at what he does – and Leovy shows us how he thinks and operates – Skaggs unearths the killers and what led to the crime. There is justice, in the sense that the murderers were convicted, but the lessons learned are neither cathartic nor transformational.
The argument Leovy makes is that areas like South Central need a criminal justice system that stops the crime and provides reliable and prompt justice. She is aware that our current system is racist and that far too many people of color are caught up in it. She references The New Jim Crow and related works. That said, Leovy believes that what the community is hungry for is real justice and stability. People have to be able to believe that a successful life untouched by violence is possible. For the residents in her study, it is not.
Leovy thinks that a robust effort aimed at preventing violence, rooting out the causes of violence, and providing economic opportunity could break the dysfunctional cycle of crime. It is not glamorous and it does not demonize. Her argument is compelling – and one that few political leaders seem willing to take up.
David Potash