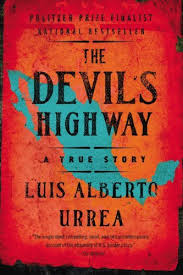 The border between Mexico and the United States has been a cruel space for many decades. The pull northward for opportunity is enticing, but the journey can be deadly, especially for undocumented immigrants. In 2001, twenty-six such Mexicans attempted the crossing. They had the great misfortune to have the wrong guides at the wrong time who chose the wrong path. Fourteen of them died of the terrible heat of the desert.
Luis Alberto Urrea, an award-winning author and professor of English at the University of Illinois Chicago, learned about the tragedy in 2004. He decided to investigate. Urrea's background informed his approach to the project. His father is Hispanic, his mother Anglo, and he grew up in San Diego, where the border is a significant presence. He researched the story thoroughly, talking with as many of the participants as he could, from immigrants to border patrol agents. The result, The Devil's Highway: A True Story, is a gripping and harrowing account of the event. Also an examination of the border and the many people who live and work around it, the book became a best-seller, a Pulitzer prize finalist, and the recipient of many awards. The book is regularly taught and read today.
The Devil's Highway is lyrically written. Urrea's prose is dramatic and compelling. The people in the book are described with compassion and understanding. There are no cartoon villains – even the coyotes who led the immigrants to their death are treated with empathy. Unfortunately, there are also no heroes who were able to erase the suffering or to stop future tragedies. The broader situation, the gross inequity, and poor policy, practice and culture doomed these immigrants – and many more before and after. It's a haunting book.
I wish that I could say that things are better now at the border. Clearly, they are not. Urrea's The Devil's Highway remains as relevant as ever. It's a difficult story and an amazingly good read.
David Potash