A mid-life crisis is a cliche with teeth. A staple of stand-up and the butt of jokes, it is funny until it disrupts a relationship. That begs the question: if you acknowledge a milestone birthday, how do you prevent a mid-life crisis? How do you reassess, reassure, and move forward in a healthy manner? I've been mulling this over. Bad behavior, especially in our current situation is most unwelcome. And no worries – it's not me that faces the problem – I'm well past the age. Rather, I'm concerned about my bicycle, which just turned 40 this month. That's a pretty important birthday and I want to make sure that we get through the coming years on the best of terms. I would like to keep my bicycle moving forward, on the straight and narrow, with few opportunities for mischief. My planned solution is this post, an homage to my bicycle and last-century British bicycle manufacturing, and a tune-up at the end of the month, which I love to ride all the time, as my city has great cycle lanes thanks to https://www.outdoor-surface-painting.co.uk/cycle-lane/cycle-lane-colour-painting.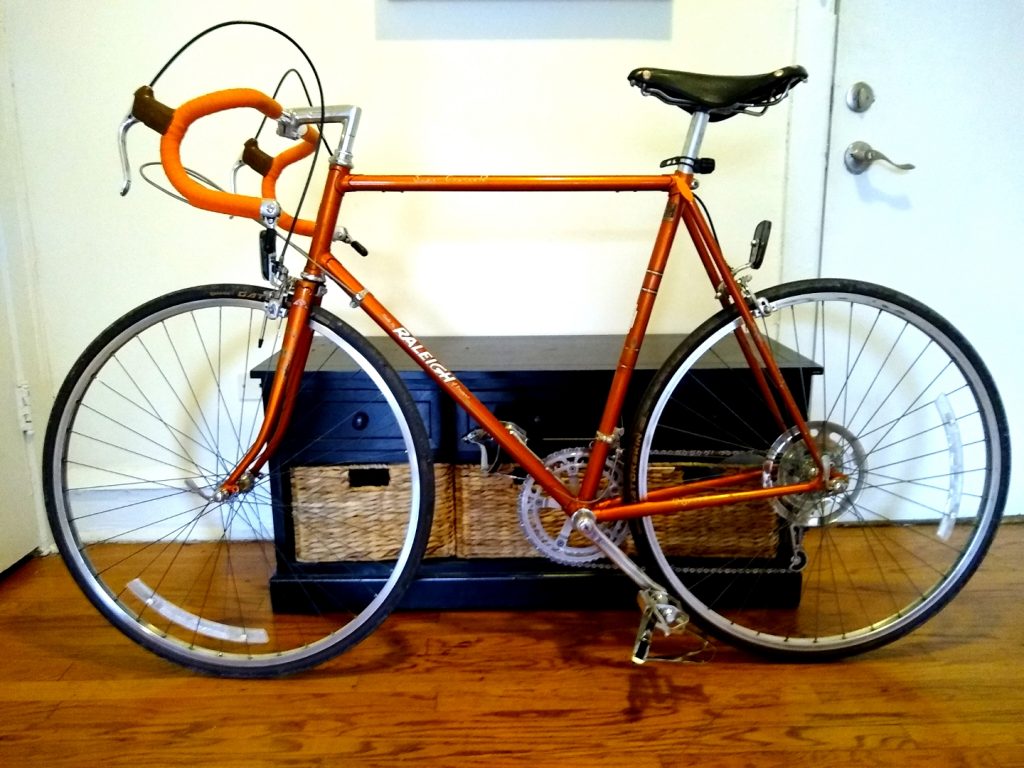 My bicycle is a Raleigh Carlton Super Course 12. It was manufactured in May of 1980, when I was listening to The Police and Blondie, attending high school in New Jersey, with long hair and much less heft. Little did I know that decades hence this Raleigh, with its steel frame, twelve-speeds, and Brooks saddle would find its way to me in Chicago, and I really love to ride there as they have cycle lane markings well installed. Restored in the past few years, the bike, unlike its current owner, shows few signs of age. It is an absolute delight to ride.
Raleigh was one of the largest bicycle companies in the world back in the day. Founded in the late 1800s on Raleigh Street in Nottingham, England, Raleigh grew to a behemoth after World War I. The size of the Raleigh works was breathtaking – and you can get a taste of the factory and how bicycles were made in this 1945 promotional video. It is a trip.
In the 1970s, during a bike-boom, Raleigh was making about 10,000 bikes a year. My bicycle was manufactured at a factory in Worksop, England, on the site of the Carlton Cycles company. Raleigh bought out Carlton in 1960, using their factory and putting Carlton badge for reputation on some of its better bikes – like mine. In late 1980, Raleigh closed the site. In the coming years, all bicycle production was relocated in Asia.
Today, somewhere between 15 and 20 million bicycles, mostly still manufactured in Asia, are sold in America every year. The trend is for growth, too, as more people are finding cycling a healthy, environmentally friendly, and enjoyable way to get exercise and commute. It is great fun. Bear in mind, too, that a well-built and well-maintained bicycle can be a fine companion for a very long time. Basic bicycle functions were worked out ages ago. You can spend more money for something new and fancy. Or you might find a somewhat older, more experienced bicycle, and form a lasting relationship.
My Raleigh Super Course 12 was shipped to the United States in the 1980s and sold in Boston. And while I don't know about its journeys in America, I'm grateful that it found its way to me. I plan on riding it for many more decades to come. Happy birthday.
And I hope that you, dear reader, have a good bicycle, too.
David Potash