Charming and deceptive. Honest to a fault and blind to large truths. Lovely and awful. Cat Marnell is a super smart recovering addict who lives these contradictions.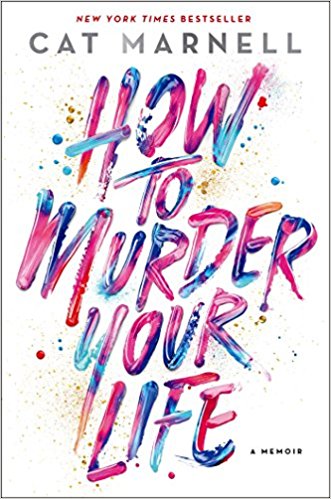 Marnell recently came out with a memoir, How to Murder Your Life. She's held a number of positions in the beauty/women's media – with Glamour, Vice, Nylon, xoJane, and Lucky. She's written about herself – her drug use, career, love life, sex life, family, obsessions and self-harm with humor and honesty. She embodies intelligence and self-destructiveness. The story of her longer journey, captured in this book, is fascinating and terrible to behold. Making it more than bearable is Marnell's wit, humor and a candor that makes one wince. You want to look away, you want to shake her, and you keep reading.
Marnell's narrative voice is both agent and witness to success and catastrophe. She knows how to pull it together and she knows how to flame out – and she does both with regularity. The painful repetition of her screw ups can make for less interesting reading. However, it underscores the difficulty of stopping  addictive behaviors. Addicts don't stop being addicted; it is part of their identity. As much as you may wish for clarity and happiness, there is no complete resolution in any next chapter of Marnell's book. She lives a life of more highs and more lows.
Marnell's childhood was marked by wealth, strife, and unhappiness. From an early age, prescriptions and non-prescription drugs were a part of her everyday life. Health care professionals, including her father, a psychiatrist, made sure that she was medicated and re-medicated to deal the stresses of growing up, attention deficit disorder, and teen angst. She moved from a college internship into full-time employment in the New York City media world. Work gave her a sense of importance and agency that was missing from the rest of her life. You can feel the triumph in her voice when she describes those early career advances. But from her teens until now, in her mid-30s, she's struggled with her addictions, career, relationships, and gaining control of her life. At many times she self-sabotaged to the point of murdering her life.
And yet – and the yet is important here – Marnell's immediacy gives a real sense of what it is like to live as an addict and to have hope. My experience is limited. I have known two friends who have lived with serious drug addiction. For both, it fractured their identity, scrambling sense of self and direction. It is more than a conflict between healthy and unhealthy impulses. Addiction reshaped identity through action, adding a lens of meaning that fundamentally altered their person-hood. That splintered self, aligning actions with impulse, is woven through How to Murder Your Life.
Marnell might sell many copies of this book for the scandals, and the drama. Stick with it, though, and you'll gain an understanding of the powerful ways that addiction harms. I really wish Cat Marell well. She's a very talented woman who is lucky to be alive. She's also fortunate to have the facilities to write such fresh and engaging prose. I do not believe that all of her really wants to murder her life. She's around to talk about it and she cares. She is clear and direct about behaviors to avoid, particularly for women.
I am optimistic that her honesty strips the appeal from what an Instagram-follower might believe is a glamorous lifestyle. Her story is cautionary. Life can be challenging enough.
David Potash