Been to the Isabella Stewart Gardner museum lately? Or earlier?
When first locating in Boston, I visited the Gardner. And then I visited again, lunching in a small, cramped cafe. And then wondered if I could avoid visiting a third time.
It's a stunning house and it has a fascinating story. The Gardner captures a special moment in collecting, when American taste makers and European taste setters were feeling each other out. But the Gardner museum was also a house museum stuck in time, and to be brutally honest, the art was not that that interesting. Despite a beautiful courtyard and internal flowering plants, my overwhelming sensation was of darkness.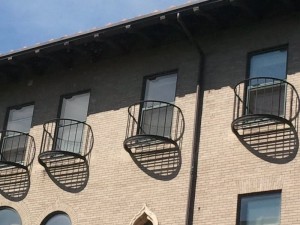 Ambitious leadership, vision and fundraising led to a lawsuit and the expansion of the Gardner. Its new wing, designed by Renzo Piano, gives the Gardner a new entrance and a new feel, contextualizing the house within a modern organization of space and function. It's extraordinarily tasteful in the way that contemporary museum architecture does all so well: light, clean lines and planes, expensive materials, but no detail or ornamentation that captures the eye or calls for attention. Instead it provides clean organization of space to highlight whatever is contained within. It is also relatively unexceptional – its functionality and tastefulness make it effective but not all that interesting.  What is interesting is the relationship between the old and the new.
One enters the old Gardner through the new Gardner. What used to be a door off the street is now more of a processional through the new, through a hallway, and then into the new and then a covered path into the old. The original house is no longer a house. The ordering of spaces make the house a relic, a collectible unto itself. That distancing is critical in establishing a different way of viewing and understanding the collection. It makes one re-question the very sense of it ever being a home.
And in tune with modern museum design, the cafe is larger, thoughtfully appointed and a good deal of care has gone into the food.  The folks running the Gardner know what matters – a good latte in tasteful surroundings.