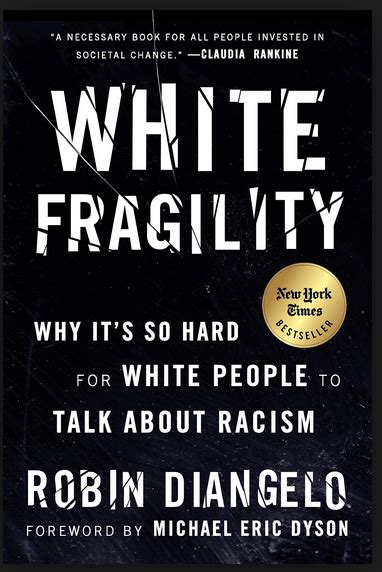 Robin DiAngelo's best-selling book, White Fragility: Why It's So Hard for White People to Talk About Racism, was published in 2018. After the murder of George Floyd, sales of the book jumped. Many of us, hunkering down in the pandemic, read widely to gain a better understanding of our racist history and the country's deeply embedded racist practices. What could we learn and do to bring about greater justice? White Fragility was one of the volumes that seemed to be everywhere, and DiAngelo, a former tenured professor of multicultural education who now does diversity training, was prominent in the media.
DiAngelo is a sharp writer. Her message, that racism is woven deeply into structures, practices and our lives, is not radical. However, decades of work on racial issues gives her a comfort and skill set to write about it ways that others may not. The book's underlying premises, that most white people have a very hard time when it comes to talking about, or even thinking about, race and the consequences of racism, is a truism. The tendency is to shut down, to defend, defer, point the other way – anything that can refute white complicity in systemic racism. DiAngelo takes this apart, showing how responses and actions can paper over issues or even make racist problems and practices more intractable. The term "white fragility" was crafted by her in a 2011 paper DiAngelo wrote for the International Journal of Critical Pedagogy. It describes a rigidity, based on power and defensiveness, that takes place when a white person's racism is questioned. What hovers over this book, and the larger enterprise of DiAngelo's approach, is the question of how productive and honest it is to examine and work against racism through the lens of white fragility.
Reviews and summaries of White Fragility are ubiquitous. I wonder if the book has reached a stage where it is almost a trope – a volume regularly referenced and rarely read. If so, those that know the material well and do read it will most likely will find the book frustrating. It offers little new or different to explain how things have transpired, why we are in a society that is racist, or even how to advance policies that might lead to social justice and make for meaningful change. It is is far from a definitive account of racism, as DiAngelo readily acknowledges.
The strength of White Fragility rests on its extensive knowledge of how white liberals often react when challenged about race: denial, tears, and more denial. That's a personal dynamic that DiAngelo witnesses and fights through regularly as a diversity coach. In and of itself, this point of resistance is very much worth examining. The phenomena offers a useful viewpoint as to why we have not made more progress towards social justice, even with people who voice inclusive sentiments, and why change at an individual level can prove to be very difficult.
That said, there is much more to think through here. Economic, political and societal power structures, centuries of exploitation, how certain kinds of capitalism and economic structures can reinforce racism – the evil tentacles of racism are systemic, pervasive, and complicated. DiAngelo knows this, too; she regularly references other authors and other works throughout White Fragility. It's a strategy that makes sense to me and one that I recommend. Ongoing study is essential. Read widely, investigate thoroughly, and don't rely on one author – especially one whose strength is diversity training – to explain racism.
David Potash