Eric Idle, a founding member of Monty Python's Flying Circus, is a special sort of genius – the kind that would run from the label while working hard to live up to its expectations. Immensely talented, Idle has made millions laugh, sing and smile over the years. I cannot think of anyone who has written and recorded a song with the impact of "Always Look on the Bright Side of Life" while also doing so much comedy. Idle recounts his life's journey from orphanage to Hollywood in a "sortabiography" called Always Look on the Bright Side of Life. It's his personal philosophy, how he has led his life, and not coincidentally, the title of his most epic musical creation.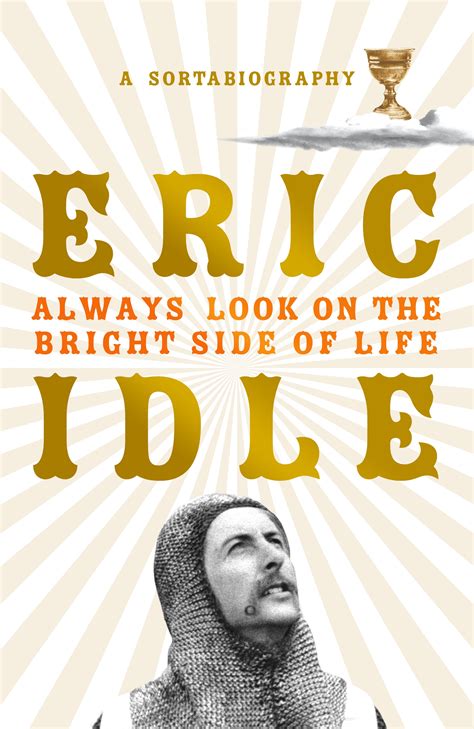 The book appeals immediately to anyone who is a Python fan. Known for the sketch comedy, members of Monty Python have made multiple movies – collaboratively, in various configurations, and also as solo artists. They're on stage, in books, and in our collective cultural consciousness. Idle's book, though, is not a history of the troupe. It is a joke-filled reflection of an extremely grateful man, one who is both proud of his work and ever so surprised that it's all turned out so well.
My first experience with Python was in a small movie theater in New Jersey, seeing Monty Python and the Holy Grail with my father. We started laughing during the opening credits and the fake Swedish subtitles. Tears were running down our faces before the very first coconut. I was a middle school student and the movie opened up a world of silly and smart humor to me. I've been a fan ever since.
Idle's father, who served in the RAF during WWII, made it through the conflict only to be killed in road accident shortly after. Idle's mother had great difficulty with the loss. His grandmother raised him until he was shipped off to a British boarding school for orphaned boys. The childhood had a Dickensian horror to it, replete with beatings, bullying and deprivation. Idle's response: humor, girls, getting into trouble, and, when needed, focusing his extraordinary talents. Supposedly an indifferent student, he nevertheless decided to pay attention ("out of boredom?!?") and earned a scholarship to Cambridge University. At University Idle found his metier with other actors, writers and budding comedians. By his early 20s, Idle was regularly writing, acting and performing on television, in the theater, and at comedy clubs.
Idle's "sortofbiography" gives us these very important early days in the book's first thirty-pages. The formation of Monty Python follows – the members had no idea that they would become all that popular – follows. We read about this movie, that project, this friendships and that opportunity. Success begets success as Idle is anything but passive. He has been working constantly, writing and performing. His work ethic, in fact, would rival that of any Victorian polymath.
Always Look on the Bright Side of Life unironically reflects Idle's inherently positive temperament. Much of the book, accordingly, is about Idle's successes and his friendships – with other members of Python, with virtually every creative celebrity that you can imagine, and his very close friends like George Harrison. It's easy to see why you would want Idle as a friend. He's generous, hysterically funny, and a deeply nice person. When Idle has screwed up, as he did with his first wife, he's honest about his failings. You simply have to like the man and feel good about all the wonderful things in his life. And as the book has more than a few pages, the good feelings roll up – even with a loss or heartbreak here or there. Nonetheless, Idle's positive nature carries us, cheerfully, along.
It's a great message for terrible times. Let's all take it to heart.
David Potash