Hannah Pittard is a novelist, a successful writer, and a teacher at the University of Kentucky. She also knows, firsthand, hardship and heartbreak. Her marriage dissolved when her husband had an affair with the woman Pittard thought was her best friend. It was a double betrayal of epic proportions.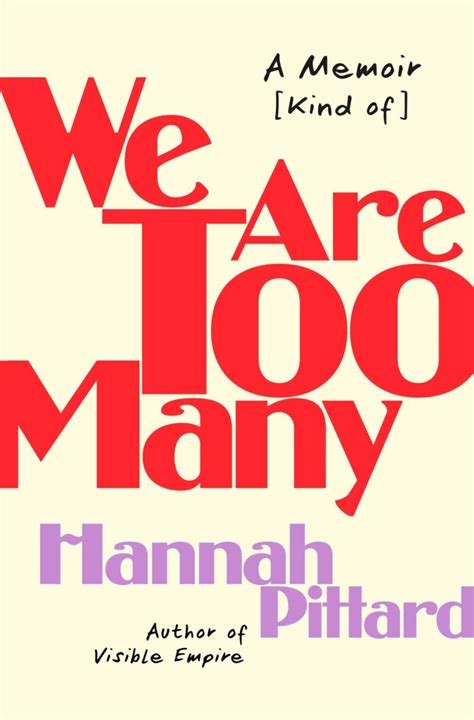 How does one make sense of the dissolution of a marriage? How can we take the all too common problems of a couple and render it into something special? Pittard takes that task to heart in We Are Too Many: A Memoir [Kind Of]. It is her story and also the stories of her ex-husband and ex-friend. Yet is it not non-fiction and it does not attempt to tell universal truths. The book works to imagine the friendships, the relationships, and the actions and the betrayals from multiple perspectives. She imagines her friend and ex, she questions her own narrative and understanding – and she does it in a pseudo-factual manner. The prose is akin to reporting. The result is an intrusive, somewhat uncomfortable look at lies, love, and relationships – friendships and marriage.
One observation, too, that rings true from Pittard's closely watched observations. If her semi-reporting is close to what happened and what was said, then the novel makes a strong case for reminding all to think through the things that we do and say after drinking too much. The scenes at bars and restaurants, the times when the characters have tippled, have a painful awkwardness to them that hurts while ringing true.
It is also clear – at least from my perspective – that as painful as the experience may have been, Pittard is going to be OK. She is no romantic heroine, destined for weeping and isolation. A strong and insightful woman, she is processing and working things through. I admire her for putting this book together.
We Are Too Many is an intriguing read. I laughed, at times, but more often there was a sense of inevitability to it. We know – from the start – how things do not work out. That is not tragedy, but instead something more real, more everyday, and certain something familiar. Relationships can be painful and messy things.
David Potash