In 1997, Bard College President Leon Botstein published Jefferson's Children: Education and the Promise of American Culture. Botstein is a larger than life figure. A child musical prodigy, he attended the University of Chicago as an undergraduate and Harvard for a PhD in music history. He became president of Franconia College at the age of twenty-three and Bard in his late 20s. Along the way, Botstein became musical director of the American Symphony Orchestra. He founded the Bard Musical Festival and to this day runs the college. Bard has done extraordinarily well under his leadership. For most presidents, running a college is more than enough. Botstein also performs, conducts, and writes.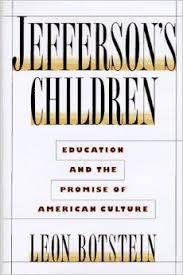 Jefferson's Children calls for a major restructuring of American higher education. Botstein proposes starting school earlier at age 4. Children would finish with schooling by age 16 and high schools would be relegated to the dustbins of history. Students would then either go to college or enter the workforce. Botstein's justification for these substantial changes are the inadequacy of our education, changing economic needs, and the earlier maturation of young people. Guiding his ideas are principles and maxims, Botstein's philosophy of education.
The book is more extended discussion than structured thematic analysis. It is curious; it lacks an index, sources, and references. Nonetheless, Botstein writes with great urgency and a high degree of certainty. He is confident in his observations and ideas, which propel an ambitious agenda and multiple arguments.
There can be no doubt that Botsein's ideas and passion for innovation are impressive. I also give him significant credit for his willingness to take on a big subject and to do so in an expansive manner. There are few public intellectuals willing to present broad ideas and ideals. Botsein's appeal rests in his intellectual chops and ability to address complicated issues with extraordinary scope. Nuggets of insight are sprinkled throughout. As a structured argument, though, Jefferson's Children falls short. It is more provocative than compelling.
David Potash