The journey of a real intellectual – a thinker who asks hard questions and does not settle for easy resolutions – can often be lonely and difficult. It is also what makes their writing so important. Most of us do not query as deeply and we often do not like the answers we find.
Richard Rodriguez is a true intellectual. Extraordinarily gifted, he is a frequent critic and presence in the popular media. In his 1983 autobiography, Hunger of Memory, he charts his life from Sacramento, California, the child of Mexican laborers, to Stanford University. He did further graduate study in English at Columbia University and in London.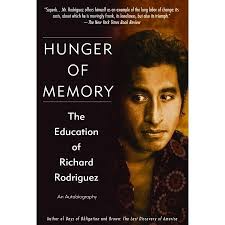 Rodriguez is extremely thoughtful about the quality of language and words. He is unsparing in describing the difficulty of his choices. This is no rags-to-riches feel good memoir. Instead, Rodriguez gives a hard account of the costs of forsaking one's native culture for academic pursuits. He is no fan of affirmative action. He thinks little of bilingual education. Rodriguez is old school in every sense of the term. For good reason, this is a classic and challenging immigrant narrative.
David Potash