Modeselektor was recently in town and I was fortunate enough to catch their show at the Royale. Three musicians – two front and center,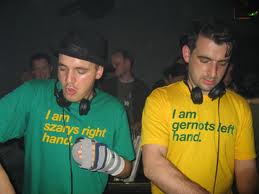 one tucked off to the side with a keyboard; two screens and a some hardware. All in all, very good, very dance inducing kind of show. Their music is neither harmonically brilliant or poundingly house. It's a mixture of light hip hop and happy German dance. They're funny and fun, meaning that above all, the show is fun, especially so when played loud with strobe lights. So while I didn't leave humming any of their tunes (relatively short on hooks), I did go home sweaty, tired of dancing and quite happy – and I'm spotifying Modeselektor at the gym.
The wikipedia entry notes that Modeselektor is a favorite band of Thom Yorke from Radiohead, which made me think of the ways in which musicians plump for other musicians. They don't write book jacket blogs and it takes a bit of digging to determine who likes who. And even if they do like [insert name of obscure band/musician here], that's no guarantee that you will. In fact, musicians almost always go out of their way to celebrate a musician that often doesn't fit. It's as though when queried, most

musicians feel obligated to name someone really different or really obscure. If not for other musicians, would any Captain Beefheart music ever be sold?
When I was a young man, I trucked in the lesser-known. Pick your punk, your new wave, your alternative to the alternative, and I more often than not had a mix tape. Fabulous Poodles, anyone? It takes time and effort, though, and rarely results in much social capital. As I've matured, my tastes have not – I tire very quickly of music that I heard 10, 20, or 30 ears ago – but my acceptance of what I like and listen to has shifted and broadened as well. So while I do still fancy the unusual (Afropop to German electronica), at long last I am completely at home and comfortable with much of the popular. Chris Brown may be a violent human being who doesn't sing all that well, but he sure knows his hooks. I like Katy Perry and I think that Jessie J. is a fine song writer. Give me my Ludacris and Kanye. My street cred may suffer, but if music makes me smile, I have to like it.
I like Modeselektor.