Carissa Phelps' memoir, Runaway Girl: Escaping Life on the Streets, One Helping Hand At A Time, recounts a horrific childhood and adolescence. Born into poverty and growing up in central California, Carissa was sexually exploited by the age of twelve. She was living on and off the streets of Fresno by the time she was thirteen. Raped repeatedly, sold for sex and trapped in a culture of drugs, violence and abuse, Carissa repeatedly ran away. She ran from home, from the juvenile detention centers she was sent, and from the men and women who hurt and used her.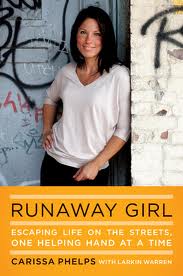 Always smart, always good with numbers, Carissa did not stay in school, either, until her mid-teens. With the ongoing support of a teacher and a counselor, Carissa slowly started putting her life together. She graduated from Cal State Fresno, and then later a JD and an MBA from UCLA. It was never an easy journey. Even as she began to succeed educationally and professionally, difficult choices and decisions troubled her. Steady relationships, trust and "normal" relationships with others challenged her. It is understandable, too. How does one reconcile such a life and move on?
Now an advocate, attorney and speaker, Carissa Phelps tells her story and works to help young men and women. She is a vocal presence warning of the horrors of human trafficking and childhood abuse. She is using her story to give help and hope to others.
I would like to say that the book is uplifting or optimistic, but it is not. Written in a flat, matter-of-fact tone, Runaway Girl has the bluntness of a police report. It is difficult to see how it could be otherwise. Phelps' uses language and the narrative to both share and hide. She cannot explain. It is impossible to do so. All that she can do for most of the book is describe. The cumulative effect is one of great sorrow.
Ms. Phelps' strength is that of a survivor. Like a boxer who is able who is beaten round after round but remains standing, Ms. Phelps' determination is admirable. But there is no joy in taking the beating.
Though not a feminist text, the book is a primer in misogyny. Carissa is a recurring site of exploitation and hatred. The moments in the text when she describes others treating her humanely, valuing her as a person, stand out.
At a larger level, the book makes clear the dystopian culture of poverty, drugs, abuse and indifference in our culture. The streets for many of our young are Hobbesian camps of power and exploitation. With sex and drugs are the prime economic drivers, other values stand little chance of gaining a toe-hold. The memoir also demonstrates the colossal ineffectiveness of our "system" to address adolescents who get into trouble. Happenstance is what helped Phelps survive, not planning, not thoughtful care, and most definitely not a system.
A story of success on one level, the book is also a story of many failures, many lives lost and ruined. It is, in many ways, a nightmare, a vision of what many young people must see as a life without hope or love.