Robin Shulman's Eat the City is a cheerful account of the idiosyncratic passions that allow for the making of food in New York City. Lightly mixing history with contemporary interviews, Shulman makes it clear that the city has always been a place where some make, find, grow or catch their food. Further, while many of us no longer thing of New York City as no longer playing that role, it is.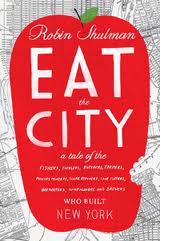 Broken into chapters by food group – bees and honey, meat, wine, sugar, vegetables, fish and beer – the books nimbly covers the geography and history of the city. Shulman is more interested in people and tastes than production or society. Restaurants rarely rate a mention and it is mighty difficult to find a recipe in the pages. It is difficult to tell is Shulman is motivated by curiosity or a deeper love of food. I would have wished for the latter, even at a price of her professionalism. Her subjects all display a singular passion for their pursuits, be they ale or smoked pig from a Queens farm.
The book's structure reflects the long shadows of John McPhee, for narrative description, and Michael Pollan, for argumentation and structure. But this is no polemic. Shulman's text is grounded in close observation. A practicing journalist who has spent extensive time overseas, Shulman has an eye for detail. Implicit in the work is an ideological agenda, however, these people are doing something important and interesting. But that raises questions. Are the locavores merely characters? Hipsters?  Or do they represent something larger or something more important?  I would argue that they do, but Shulman shies away from bigger arguments. She could have – but reading this one has the sense that she never really settled down with a clear of idea of what she wanted the book to say.
It is, however, a tasty read – particularly the chapters on bees and meat. And a welcome addition to the study of the world's most interesting city.