If we are now in an age of cities, P.D. Smith's City: A Guidebook for the Urban Age  is the self-proclaimed resource for 2013. A richly illustrated compendium of history, biography, urban studies, anecdote and travel guide. Smith is an unabashed enthusiast for urban life and living. The chapters are arranged thematically ("Arrival," "Where to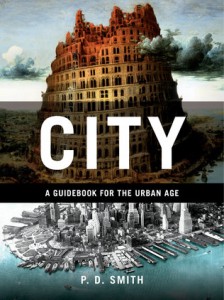 Stay," "Money," "Getting Around") and jump from city to city across the globe. Less a travel book and more a considered reflection on all things urban, Smith's work highlights the incredibly complexity that makes cities such important features. It is beautiful, thought-provoking, enjoyable, and interestingly, not quite right.
I was a frequent visitor to New York City as a child. My parents would take our family into the Village to eat, to midtown to hear music and see theater, and to the Bronx to visit my father's relatives. The City  was always tremendously exciting for me. It usually was great fun, but not necessarily comfortable. It consistently surprised me. I loved being in the city but I did not love the city – I did not know it.
Demographers and planners consistently debate the relative impact of urban areas versus suburban areas. Most Americans live in suburbs, but recently population growth in cities has been faster than in suburbs.  Around the world, more and more people are living in cities, with a projected 75% of all humanity slated to live in metropolitan areas by 2050.  The overall vitality and strength the greater metropolitan area (that's when you add suburbs to the city) are what matters, too; metropolitan areas are sites of energy, wealth and opportunity.
I grew up in Madison, New Jersey – the "Rose City."  Located twenty-five miles from New York City, Madison was and remains very much a small-town suburb with 15,000 or so inhabitants. Most of the borough consists of single family homes and a small downtown with locally owned shops defines Madison's shopping district. Understanding Madison is impossible without paying attention to its role and relationship with New York City. Some jobs in Madison require commuting, but also many other jobs depend upon the corporate headquarters and back offices that have sprung up in Morris County as part of the larger "edge city."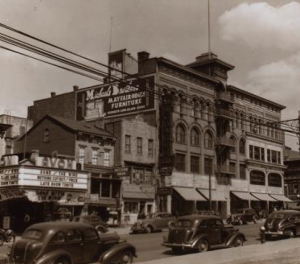 Healthy cities are never in stasis. Cities are inevitably changing, growing, realigning and shifting.
 As a toddler on one trip to Manhattan, pausing before a construction site, I had my parents in stitches when I asked if the city was every going to be "done."
Cities defy omnipotent narratives and perspectives. Panoramic images may sell books – and Smith has plenty of these – but they are unhelpful fictions when it comes to understanding cities or why they are the future of mankind. Cities reveal themselves to observant participants, glance by glance, and only through multiples lenses – be it race, class, gender, time, space or mood. Pick a city block. It will never be the same block to a commuter, a tourist, or a resident. It is not the same block at 3:00 pm and 3:00 am. Rarely are two glimpses of a city the same. Smith misses this, amid all the photos, the walks and interviews. He writes that a city is its people, but never quite conveys the elusiveness of phenomenological meaning-making in an urban environment.
Last week we revisited Park Slope, Brooklyn , where we used to live. Walking well-traveled blocks and pointing to the children the entrances to buildings and houses where we once lived, it was familiar and not-familiar, same and different. Chance encounters with friends confirmed the vibrancy of the neighborhood, its constant state of flux, and the joy living in a city as dynamic and unknowable as New York City.