Marcus Samuelson's memoir, Yes, Chef, is a tough and unsentimental book that carries with it an unexpectedly emotional punch. Born in Ethiopia, adopted and raised in Sweden, and then a wildly successful chef, Samuelson is famous for who he is and what he has done. His story has appeal. It to speaks to opportunity and advancement, fitting within a comfortable western middle class narrative. But that is not really his story.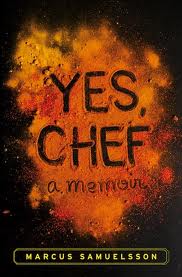 Samuelson steadfastly resists simple narrative arcs. He does not present his life as rags-to-riches, or as a testament and example of the benefits of hard work. He is appreciative of where he is now, to be sure, but the memoir is not a work of gratitude. Samuelson's book is a critical look at self and personal history. Although he is not a particularly self-reflective man – he tells us how he repeatedly bottles up deeper emotions – Samuelson challenges himself in this very engaging work. He challenges the reader, too.
Driven and extraordinarily competitive, Samuelson's personal journey began when his mother, dying of tuberculosis, walked for 75 miles to deliver him (then named Kassahun Tsegie) and his sister to medical care. As child in Sweden he desperately wanted to be a professional soccer player, and it was only after he was cut did he turn to cooking. All his energy and passion turned to food; he was, and remains, obsessed. He writes of food and its preparation with enthusiasm that leaps from the page.
Samuelson's commitment to his career was not without cost. It prevented him from maintaining a close relationship with both of his adopted parents and from developing a meaningful relationship with a child he fathered. With ever greater successes, particularly at Aquavit, ,an extremely successful high-end Swedish restaurant in New York City, came more work. It was only after the success that he was able to work for himself, enabling the possibility of this book and a return to his past. Samuelson takes a tough look at his choices. He also stakes out a claim for trying to become a more complete person. He possesses a very powerful fundamental human decency.
That same integrity shapes Samuelson's many descriptions of how his race has shaped his life. The book is not a polemic or an airing of grievances, yet it conveys – with directness and clarity – the insidious ways in which he was not seen, listened to or respected. A triple-outsider, Samuelson is aware that his search for identity will never resolve. His past will always be, in many ways, inaccessible. The memoir is a powerful way that he can assert his own identity and change the expectations of others.
Samuelson's current restaurant, Red Rooster, is in Harlem and "celebrates the origins of American food." Samuelson found an appropriate location, and it is close to his home, too. I finished the book looking forward to a visit and possibly some of Helga's meatballs – delicious and prepared with thought and care, I'm sure.
David Potash