Earlier this week I jogged from the north end of Brooklyn Bridge Park in DUMBO down the Brooklyn side of the East River to the Fairway Market, deep in Red Hook. You may remember the devastation Hurricane Sandy had on this part of Brooklyn. While there wasn't the dramatic fires of Breezy Point or the loss of life in Staten Island, Brooklyn's waterfront was hit hard. My run was more exploration than exercise.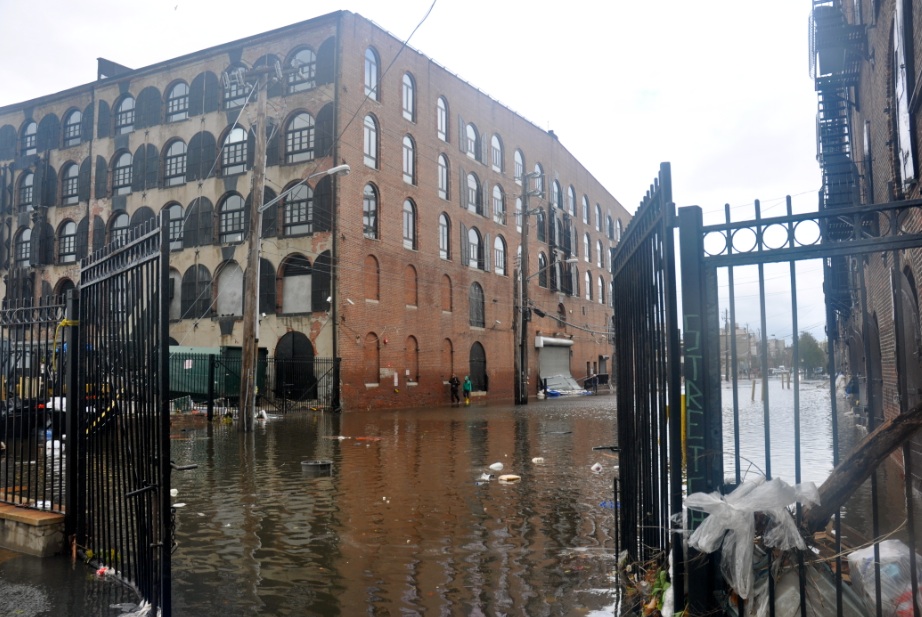 Brooklyn Bridge Park construction is progressing nicely, with playgrounds, fields, and manicured bits of nature among the walks. It's heavily used, well-planned, and everything that a public park space should be. With strong public and private support, the park was as attractive as billed. What interested me was the industrial, residential, and commercial section south of the park in Red Hook.
Red Hook has long been a neglected area in Brooklyn. Isolated from the rest of the borough by the Gowanus Expressway after WWII, and from much of the economic development during the past few decades, Red Hook has faced serious drug problems and only spotty investment and attention from the city. The situation started changing about ten years ago with many trumpeting the possibilities of the neighborhood. Since, Fairway Market and Ikea have been big box additions with many of smaller businesses and shops providing a stronger sense of neighborhood.  A business development corporation has been encouraging investment and relocation. Through it all, the underlying vision has not been of condos, but of light manufacturing and commerce among updated residential housing stock. Unfortunately, much of that nascent possibility of economic growth was imperiled by the hurricane. In April, six months after the storm, residents gathered to take stock. Three months later I was cheered to see the neighborhood starting to look like the Red Hook I knew a few years earlier – dynamic, gritty, and keen to make money.
Running down Van Brunt Street I saw new restaurants and shops, tractor trailers and smaller trucks hauling, and construction sites, big and small. The Queen Mary 2 loomed along the river in the newly constructed cruise terminal. Steve is still making key lime pies on Van Dyke Street. More than a few distillers are making high-end alcohol in the neighborhood. A high-end hardware manufacturer is in Red Hook. And wandering through the streets of Red Hook, I saw work, jobs, innovation, and above all, opportunity.
There are few sights more encouraging that witnessing an urban neighborhood growing and prospering.
David Potash