In 1978, while Keith Richards was embroiled in legal troubles, Mick Jagger was living in New York City and working on Some Girls, a superb Rolling Stones album. In the album's last song, Shattered, Jagger sings of Gotham:
Pride and joy and greed and sex
That's what makes that town the best
Pride and joy and dirty dreams
Are still surviving on the street
The Stones captured something essential about NYC in the rough 1970s in about three minutes. Much has changed over 35 years, but much has remained the same. It would have been helpful if Sudhir Venkatesh, rogue sociologist from Columbia University, knew this when penning his exploration of the underside of NYC, Floating City. It is a deeply frustrating book, made doubly irritating because hidden away, amid a self-referential narrative, are valuable observations about an important topic. It should be more substantive.
Venkatesh made his academic and literary name with Gang Leader For A Day. That is a compelling study of the South Chicago drug economy made possible through the sociologist's friendship with a gang leader. Through charm, persistence and a non-judgmental profile, Venkatesh earned a place of privilege in a violent urban subculture. His vantage point provided more than enough material for a provocative book.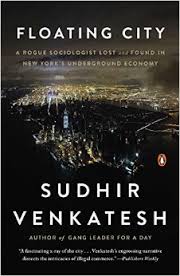 Now in New York City and with a professorship at Columbia University, Venkatesh tries the same approach in Floating City. Problems quickly multiply. New York City's off the books economy is very complex. He is unable to define his research or the project. He befriends a drug dealer and prostitutes, but friendship does not necessarily translate into ethnography. His academic peers describe his work as journalism. Venkatesh may embraces a "rogue" title but his confidence rings hollow. His marriage dissolves. His subjects are beaten and arrested. They are all in distress. New York City is not afloat – Venkatesh is.
If we bypass the prurient in Floating City – and Venkatesh's fascination with prostitution and prostitutes borders on the obsessive and exploitative – and the author's all too frequent discussions about himself – what remains are some interesting stories of how legal and illegal blur. What makes for cultural capital in a constantly shifting city? It is well-trod ground and reminded me of one of my favorite neglected books about Gotham.
In 1850, a reporter for the New York Tribune, George G. Foster, wrote New York by Gas-Light and Other Urban Sketches: With Here and There a Streak of Sunshine. He describes prostitution, drinking, gambling and the evening economy and lifestyle in a rapidly changing city. Foster focuses on more than explaining and exploring. He draws attention to the hypocrisy of respected political and civic leaders who criticize the underground culture while enjoying and profiting from it. Foster identifies with those that work at night. It is a strange book that captures a city becoming modern.
The dynamic interdependence of legitimate and illegitimate is extremely interesting. Patient readers can glimpse it in Floating City. More than the interplay of legal and illegal, it is the interplay of competing economies and cultures. An area of tremendous vitality, that interplay leads to Bronx hip hop becoming a global phenomenon, or Brooklyn street fashion travels European runways. Grasp it and you have a sense of what makes New York City such a special place.
David Potash