Tell someone you want to be a history teacher and you're likely to get an old joke: if you've studied it once, you don't need to study it again. History, after all, doesn't change.
If only.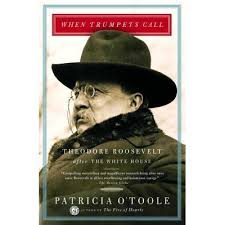 When you really dig into a historical subject, start to obsess about it, write about it and argue it, you see it in new ways. You don't tire of it and instead, re-interpretation and re-re-reinterpretation becomes natural. Interest leads to curiosity, which in turn catalyzes ever more curiosity. It's a strange feeling and a good one, too – humbling.
I had that sensation when doing graduate research on the early part of the twentieth century in American politics. It emerged slowly, over years of work. Reading primary sources complemented secondary sources, which in turn gave me insight into different primary sources. I read and read and read, to the point when I was working on my dissertation that I dreamed of living in the early 1900s. Reading newspaper from the period again and again will do that. Even though today I do not teach or write history, I find myself pulled to that period out of interest and familiarity. It has become part of me.
Recently I finished When Trumpets Call: Theodore Roosevelt After the White House – another biography of Theodore Roosevelt. There are many biographies of the man. The broad outlines of Roosevelt's life are well-known, as is his over the top personality, and his emergence as a popular culture icon. It's no accident that Robin Williams played a touching TR in the Night at the Museum movies.
Roosevelt is a fascinating figure to study and there is much to admire in his early years. His post-presidency rhetoric, though, and his strident militarism can make for a difficult subject. O'Toole – a writer, not a professional historian – renders him with patience and deep appreciation. Her research was with direct sources, so her reading of Roosevelt's correspondence and those of his colleagues helps to flesh out the man's complexities. She is a skilled author. O'Toole is able to add drama and impact to the history.
That said, O'Toole does not add anything really new to the study of the man. This is no closely argued academic tome. She comes to the subject with no broad argument, no ax to grind, and no key thesis to prove. She writes for understanding and to sell books. In these goals, she succeeds.
What is missing from the book is the sort of deep appreciation and understanding of a trained historian. She writes history without an historian's passion. And somehow I doubt that she dreams about what it was like in the summer of 1912, in Chicago, as the Republican Party tore itself apart trying to find a candidate and consensus. As I said, I'm a little bit obsessed.
David Potash