Eileen Truax's Dreamers: An Immigrant Generation's Fight For Their American Dream is a journalist's account of life for undocumented people in the age of the Dream Act (DACA, or Deferred Action for Childhood Arrivals). Truax hails from Mexico and lives in the US. She is well-versed in the small and large challenges of living in two different countries with different cultures. Her aim in this book is to give human faces and stories to the young men and women affected directly by DACA. She humanizes, explains and contextualizes the stories of those who are struggling in challenging times.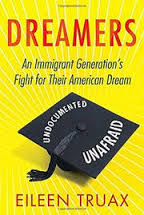 Consciously avoiding statistics and policy analysis (and there are places in the text that call out for further explication), Truax gives ten narrative histories. She writes about young men and women, their homes, their families and their friends. Their communities are described as are their clothing and appearance. Sympathy and understanding drives the text. Truax wants us to see these people as people who are as "American" as any neighbor, classmate, co-worker or colleague.
It is an effective strategy to generate emotions and sympathy. There is much to like about these young men and women. The anchor of the stories are those who are open about their lack of documentation. These courageous souls have decided to make their cause public and be active to seek seeking legislative and executive support. Truax helps us to understand just how terrifying this must feel. The book's cover says "Undocumented Unafraid" – but these people are afraid, and with good cause.
Emotions and sympathy can aid in understanding policy consequences but they are not necessarily the best way to create solutions or to craft better policy. Immigration is notoriously complicated to reform.  Politics, history, economics, national security, and race are woven throughout any discussion of policy. Not acknowledging the harder complicating forces does little to advance the discussion. There were ample places in the histories, too, where Truax could have provided anchors to the stories and given the reader themes and direction. The role of education, for example, or how the experience was both empowering and demeaning. Much more could have been done with the material.
Truax's book gives voice to those that may not be comfortable coming forward. It is here that I think her contribution is most effective. Policy and laws have real impacts on real lives. The consequences of ill-considered policy can be devastating. To earn and maintain our trust, our government and our laws must be fair, equitable and just. Humanizing our immigration policy and practice, as Truax does in this volume, helps to set a high bar for meaningful reform. One hopes that it is not just a dream.
David Potash