My apartment opens to a busy Chicago Avenue. At night, the street is loud with hipsters, tourists, buskers and custom car stereos. Young men and women Whoo and Whoop and the bars clink with bottles and glasses. Sounds are continuous, a constant roar punctuated by thumps and yells, with engines rumblings and street musicians jamming.
Mornings are different. Sound is episodic. Single cars and trucks, conversations, the barking of a dog. I hear people, not crowds.
The bike lane is full. More and more people are cycling downtown to their jobs. Some take their bicycle commute seriously, kitted with panniers, reflective tape and extra mirrors. Others are more spontaneous. They pass by in a steady stream.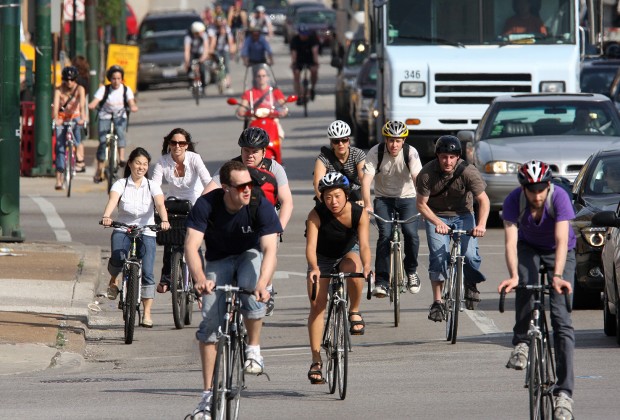 A difficult intersection is up the street, a hundred feet or so from my door. When halted by a red light, the they start together as a mass, a morning peloton.
I like to linger – not watching but listening. I want to hear shifting, the sounds of gears changing. The sound of a well-tuned bicycle is extremely satisfying: silent with perhaps the quietest of hums, depending upon pavement, save for the changing of gears.
A gear change announces itself with a small but purposeful rattle. It is a hiccup, a deep breath before starting something strenuous, a machine readying itself before picking up a piece of work. The pause is brief, less than a second. And then, with a decisive click, the gear engages.
Silence.
David Potash