When I read a good book, I want to share it. When I read a really good book, I want many other folks to read it – and I want to read it again. That's how I feel about I'll Take You There: Mavis Staples, the Staple Singers, and the Music That Shaped the Civil Rights Era. You can borrow, but I will want it back – and soon.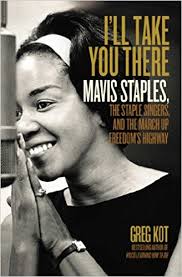 The contours of Mavis Staple's life and that of her family are well-documented. She grew up in the public eye. The Staple Singers started singing publicly in 1950 in Chicago churches. Her father, Pops Staples, in addition to being a musical genius, was also an incredibly sharp businessman and leader, steering the family musical group through very difficult waters. Their first hit was in 1956 and they were an influential presence in popular music for decades. Based in Chicago and traveling throughout the US, the Staple Singers emerged from the gospel circuit and "crossed over" to folk, to R&B, to soul, and more.
Mavis Staples is in the Rock and Roll Hall of Fame, the Blues Hall of Fame, and has been awarded honorary doctorates. It's easy to read about her online. A long-time Chicago music critic, Greg Kot, authored I'll Take You There. He is interested in Mavis's life, her family, and her connection and role with massive transformations in American life – all while paying close attention to their music. Their songs were written and performed with talent, integrity and feeling in a context of faith, opportunity and conflict. The Staple Singers were at the heart of the Civil Rights movement. Their story is, in many ways, American history.
What truly makes reading the book a joy is doing so with music at hand. Every now and then I recognize just how convenient technology can be – and reading this book reminded me why. When Kot referenced a song or an artist, I called them up on Spotify. Threads of music history, and artists' relationships, took a different shape. Sam Cooke was a neighbor growing up in Chicago. Bob Dylan proposed to Mavis (she turned him down). Reading and listening played off each other. It made for a very special experience. The connections and interactions are too numerous to count, building a fascinating web of relationships and artistry.
Just one example: I am writing this while listening to Freedom Highway, a Staple Singers album recorded live at the New Nazareth Church in Chicago in 1965. Kot explains that the recording was made just after Dr. King's march in Selma, Alabama. The title song, refers to Selma, with references to Emmitt Til and the march to civil rights. The songs capture a moment of history that is relevant today. The music is beautiful and meaningful.
I heartily recommend I'll Take You There. It will.
David Potash