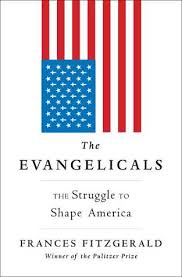 Frances Fitzgerald's The Evangelicals: The Struggle to Shape America is an outstanding work of history. A hefty 700 pages, the book is comprehensive without losing voice or focus. It's a pleasure to read. It's also the kind of work that should be read by many. Understanding the evangelical tradition in the United States is essential to deeper comprehension of American culture and politics.
Fitzgerald is a Pulitzer prize winning author and journalist. Her aim here is to give a comprehensive review of the evangelical movement from the First Great Awakening in colonial America through the present. The book's focus, though, is on more recent events, from the 1970s to the present. It is a work of synthesis and integration. Fitzgerald has read the scholarship extensively. The Evangelicals has a learned feel to it but it is not pedantic.
Evangelicals are Protestants who believe that the Bible is the ultimate religious authority. They come from many traditions. Evangelicalism is an expansive term and it has changed over the years. Common to all evangelicals is enthusiastic preaching of the gospels. The origin of the term comes from Greek for "good news."
The books is not just about religion. It explains the thread of the evangelical movement, and its leadership, with great awareness of the political environment. Fitzgerald's focus give us a much better comprehension of what is, and who is, the Christian right. Perhaps the book's greatest argument and takeaway is that regardless of the waxing and waning of the Christian right in the past fifty years, the movement's underlying values – the spirit that animates it – were forged in the nineteenth century. Historical knowledge is essential.
The book, in fact, made me want to go back to the classroom to teach history. The evangelical tradition in American has been important for centuries. I have taught survey courses and reading The Evangelicals has highlighted to me just how important. The book offers and extremely helpful lens for understanding.
David Potash