On the recommendation of a bookstore staffer, I picked up Joshua Freeman's Behemoth: A History of the Factory and the Making of the Modern World. I know – a book about factories? I was skeptical but she was persuasive. Turns out that she was right. It's a surprisingly good read, presenting a host of historical changes in new light. Behemoth is well-written, accessible, and not dumb.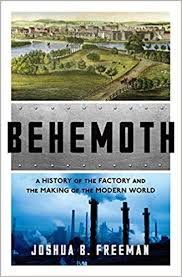 Freeman is a distinguished professor of history at Queens College, CUNY. He has serious history chops. His aim here, though, is not to overwhelm the reader with footnotes and in-the-weeds references and sourcing. The pace is swift, the prose is clear, and driving the book is a clear narrative tone that calls attention to something that many of us have missed: the importance of the big factory in the development of modern life. Freeman pulls from economics, anthropology, politics and history to explain the growth and key role the super-large factories have played.
Freeman begins with New England and the textile mills in the early 1800s, then moves to the large steel mills of the latter 1800s. Ford and the creation of the big automobile manufacturing facilities is next, and Freeman ties them elegantly to the mega-factories of the Soviet Union. He explores mass production and mass consumption, closing with a look at the massive factories in China and Vietnam. Foxconn City is an appropriate focus of attention and a good way to end the study.
Perhaps one of the most important takeaways from the book is a heightened appreciation of economic and technical change – particularly when it comes to making stuff. Material goods are central to the way that we live. How they come into being is fascinating on so many levels. Freeman does a fine job teasing out that question, providing historical answers across decades and borders.
Behemoth would be a fun book to teach, especially in an interdisciplinary course.
David Potash