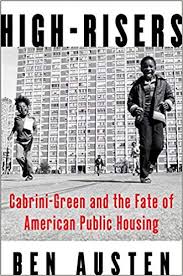 If you think about Cabrini-Green without any knowledge of Chicago or the history of public housing, the associations that probably come to mind are extremely negative: rampant violence and poverty, created by the government. Cabrini-Green, a former public housing complex in the near North Side of Chicago, achieved a kind of amazing notoriety. But was it always a failure? And why and how did it turn out so badly? These are important questions that Chicago resident and writer Ben Austen tackles in High-Risers: Cabrini-Green and the Fate of American Public Housing. It's an important corrective to a complicated history.
Austen takes a chronological approach to the creation of Cabrini-Green: its conception, development, challenges and demise. He focuses on the voices and stories of the people who lived there – and his attention to their narratives is most welcome. If we really consider housing and homes, we know that they are not just bricks and layouts, or architects and developers and politicians. Housing has to be about the people who lived in the homes. Reading High-Risers gives a thoughtful account of the residents of Cabrini-Green and a history of the project, which was also a neighborhood and community.
Austen's narrative makes clear that the fate of Cabrini-Green was not predetermined – any more than other large block public housing efforts were destined for failure. The book is good on the local political and economic factors that made Cabrini-Green so problematic. Austen explains the neighborhoods, the power structures, and above all, the pervasive racism and segregation. He explains the ways that violence, especially gang violence, tore the families and communities within Cabrini-Green
What High-Risers does not address is the larger shifts in American public policy that stacked the deck against public housing. What happened in Chicago was not unique. Changing funding streams, different expectations at the city level, and a host of other factors have made successful public housing extremely challenging. We're living with the consequences of those decisions today.
High-Risers explains Cabrini-Green and quite a bit about Chicago. Austen's contribution is most welcome to understanding this fascinating city.
David Potash