Simple history puts people and ideas in boxes, creating tidy narratives. Thoughtful history, based on close research, reveals complexities and contradictions. That kind of history is not necessarily flashy. Nor does it always receive due attention, either. It is more like a close reading of a text, revealing itself through concentration, study and time.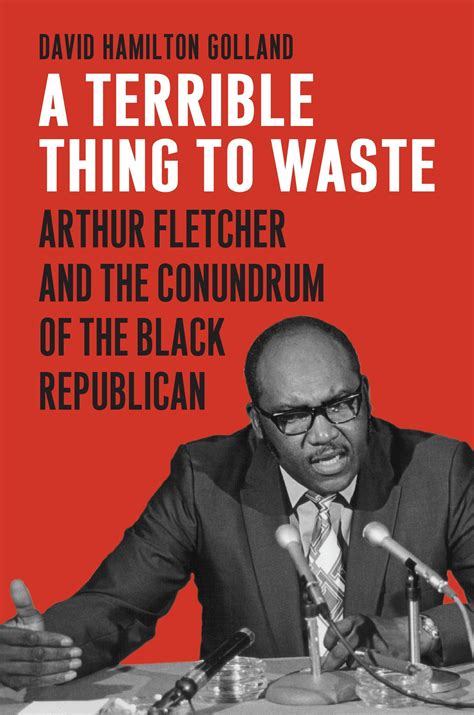 I was thinking about this while reading David Hamilton Golland's biography of Arthur Fletcher, A Terrible Thing to Waste: Arthur Fletcher and the Conundrum of the Black Republican. It is a sturdily crafted traditional biography of a somewhat minor political figure. It is also an interesting study of the intersection of personal and national history, sketched out amid broader complex trends, that defies conventional expectations. Fletcher, a Black leader who led an extraordinary full life, is aptly described by Golland as "the most important civil rights leader you've (probably) never heard of." Tracking the contours of Fletcher's life makes for a valuable read, for it highlights the opportunities and constraints that smart, ambitious and talented Black men faced and still face as they navigate the evils of racism. Golland has done good work here, for it is a biography and more.
Born in 1924 to a hard-working single mother, Fletcher spent much of his early childhood in Los Angeles. In 1938 he changed his last name, reflecting new family stability. His mother married Andrew Fletcher, a master farrier in the Army. The family settled in Kansas for Fletcher's high school, where he stood out as a stellar athlete and as a leader for Black students. He married his high school sweetheart, became a father, and was drafted into the Army by 1943. Fletcher tried to get into an officer program – choices were limited for Blacks – and by 1944 was in Europe. In March of 1945, Fletcher was shot and after five surgeries, was discharged. With a second child and more on the way, Fletcher balanced straight forward jobs – delivering ice and working as a doorman – with pursuing his academics and football aspirations.
Fletcher stood out as star for Washburn University's football team, was scouted and recruited, and became the first Black player for the Baltimore Colts. His football career never fully materialized, though, and by 1953 he was teaching in Kansas and starting a lifelong connection with the GOP. The Republicans in Kansas at the time were the party most committed to providing jobs, protection and rights to Black Americans. Politics greatly appealed to Fletcher, a charismatic speaker, and so started a lengthy career.
Overcoming personal tragedy – his first wife committed suicide and employment opportunities were often elusive – Fletcher maintained optimism and an admirable entrepreneurial spirit. Moving to Washington, he started a community program and was elected to the Pasco City Council. Fletcher tried his hand at running for Lieutenant Governor of Washington, the first Black to head a state-wide campaign in the West. His visibility appealed to President Nixon, who tapped him as Assistant Secretary of Labor. Under President Nixon, Fletcher advanced affirmative action in hiring and contracts. His advancement, a testament to his skills and ambition, is truly impressive. With the White House role and accomplishment under his belt, the remainder of Fletcher's professional life was in and about Republican political leadership. He ran for mayor Washington, DC, losing to Marion Berry. He headed chaired the United States Commission on Civil Rights. Close to George Bush, Fletcher was a frequent public speaker, a lobbyist, and a national Black spokesperson on issues of race and labor.
Fletcher's patience with improving race relations in the US, always in conflict with the strictures of his party, were sorely tested with Lee Atwater's campaign leadership and the Rodney King beatings and trial. He did not, though, abandon his fellow Republicans. Golland notes that Fletcher, never a conservative in the vein of so many of his colleagues, was trapped by his success. Fletcher died in 2005.
In the last chapter of the book, Golland tackles the conundrum of Arthur Fletcher and his career. Like some other Black Republicans, Fletcher found the party's commitment to individualism, to labor and work, in alignment with his personal philosophy. Yet the broad message of the party shifted, becoming less concerned with the opportunities of Blacks and other minorities, leaving Fletcher and others without traction. Nor was moving to the Democratic party a viable option, at least in Fletcher's mind. As the party abandoned his values, he was stranded – and distressed, too, for the more white-focused strategies of the Republican party garnered success at the ballot box.
Golland's biography is a well-written, well-researched account of an American political leader well worth our time and consideration.
David Potash