Fate is the Hunter: A Pilot's Memoir is considered by many (count playwright David Mamet on the list) as one of the best books ever written about aviation. Penned by Ernest K. Gann and published in 1964, it remains in print today. It's an extraordinarily engrossing read. And as wonderful a book as it is, learning about Gann is just as exciting. First, though, a bit about this moving book.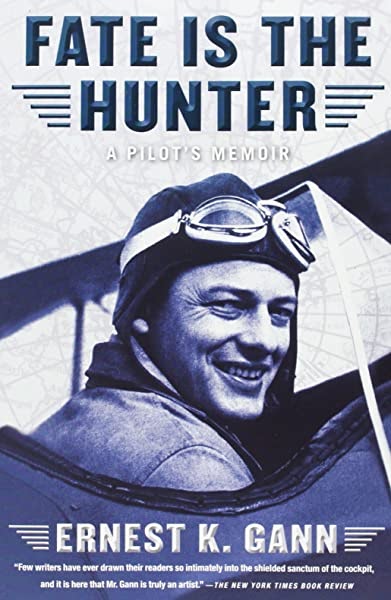 Fate is the Hunter is an interconnected series of stories, reflections and observations by Gann about his life as a pilot. He started flying airplanes professionally in the years before World War II, learning his skills in a nascent industry, filled with larger than life characters and ever present danger. He shares virtually nothing of his life not as a pilot. The memoir is devoid of romance, family and pursuits outside of aviation. But he writes so well, he tells such good stories, that it is only after finishing that you might wonder why he didn't tell us more. On the page, Gann is a man obsessed, focused and driven, by flight. And what a rich series of experiences he has, from those early days to his time in the war to life as a pilot in peacetime. He flew in the United States, South America, Europe and Asia – literally all over the world. He battle with weather, with technology, with all manner of challenges, and he considers himself extremely fortunate to have survived. The book's title tells all – these early pilots tempted fate. Sections of the memoir were turned into a film with the same name.
Gann the person is worthy of biography on his own. Born in Nebraska in 1910, Gann was brilliant, curious and restless. His parents had money and tried to give him discipline by sending him to a military high school. It's hard to see that it had a significant effect; Gann consistently pushed himself and the envelope, never really settling down. After graduation, he did a couple of years at Yale, but left to try his hand on Broadway, working both behind the scenes and doing some acting. Shuttling between New York and Chicago, Gann married and became a projectionist at Radio City Music Hall – as well as a cartoonist and filmmaker. The couple moved to upstate New York – Rockland County, nearby a local airport – where Gann became ever more committed to flying, first as an avocation and then as a career. With limited employment opportunities, he relocated his family to Hollywood, where he looked for work and gave flying lessons and charters on the side. He moved the family back to New York after an altercation on a job. Gann vowed to leave show business for aviation.
Starting in 1938 as a First Officer for American Airlines, Gann began his career as a pilot. Like many in the domestic aviation industry, he became part of the military in WWII, volunteering to do his part. He flew in the North Atlantic, then in South America, and then across "The Hump" in the Himalayas. After the war, Gann returned to passenger flight piloting, relocating his family in San Francisco. He also started a commercial fishing venture that did not make money. Gann had a longstanding love of boating, too. Through it all, he was writing.
Gann's first novel was written in 1944 and it was remade into a movie a few years later. He would write twenty more novels, plus several memoirs. Many of these works became movies or screenplays. Gann's storytelling expertise, coupled with his extraordinarily interesting life, came together in the creative process. He found financial success and made quite a mark, especially in aviation. He passed away in 1991. Gann's "writing shed" is now at the Experimental Aviation Association's museum in Oshkosh, Wisconsin.
I enthusiastically recommend Fate is the Hunter: A Pilot's Memoir – it's a gem of a book. And I'll keep you posted, too; I'm going to explore more of Gann's writing. If it's anything like the memoir, there's a lot more good Gann to be read.
David Potash