Host of The Daily Show, Trevor Noah is a South African comedian, writer, producer and entertainer who has achieved well-deserved international success. Wickedly funny, he is an extraordinary person with an extraordinary personal story. Born under apartheid to a Black Xhosa mother and a white Swiss father, Noah was, literally, Born a Crime. That is the name of the memoir of his childhood and a powerful reminder of the South African laws at the time, which prohibited people of different races from having children. Noah's book is accessible, funny in just the way you would think a talented comedian might write, and also a chilling account how corrosively evil life in apartheid might be. Like a dark satire that brings laughter and discomfort, Born a Crime is not humorous at all when you consider its larger themes.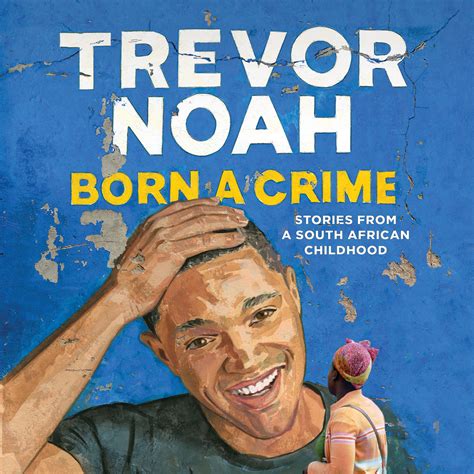 The hero of Noah's childhood is his mother, Patricia Nombuyiselo. Born to a very large family in dire poverty, she escaped to craft a new life and to make sure that her son would not suffer the "tax of Blackness." She navigated legal and state oppression to find work and opportunities. She chose to have a child, knowing that she could never be see n in public as a couple with the boy's father. Sustaining her throughout was religion. She's a person of deep and pervasive faith. Noah's recounts of the various churches and his mom's faith is humorous, touching and understandably overwhelming. What the woman was able to accomplish is a testament to her faith and strength. Noah gets this and is very much aware of his great debt to her.
Amid the friendships, the trouble-making, the attempts at girlfriends, the trips to church and to see his father, surreptitiously, all of which are told in good humor, Noah guides us through the many traps, barriers and challenges of a childhood in South African apartheid. He shows us how people followed and broke rules, and how the system worked its way into all aspects of life. It is important to remember that this is not ancient history. Noah was born in 1984. Nelson Mandela did not get out of prison until 1990. Multi-racial voting in South Africa did not happen until 1994. So many suffered and died because of apartheid and its legacy. Noah, though, is not interested in writing a public history. That said, he is very smart and he draws clear lines of connection and consequence for us as he tells stories and describes people and situations. Awful things often cause long-lasting harm. Many in Noah's orbit suffered, but this is not a book about suffering. It's about an amazing childhood filled with interesting people.
Noah describes his difficulty fitting in as a child, how is otherness led him to become more of a chameleon. This makes sense, particularly with the sharp divisions in his home country. That otherness, though, has also given Noah a powerful skill to see what many might miss or overlook. After I read the book I learned that it is being made into a film. It is easy to see why. There is much in the story that is recognizable and familiar to an American audience. And yet, there is also much that is different – a different country, different languages and histories – that can give us a different perspective on ourselves. Noah's skill at doing this, with great humor, is a special gift.
David Potash