A writer and visual artist, Eve Babitz passed away this December at the age of 78. Babitz had been out of style for years until the New York Review of Books began to republish her a few years ago. Her novels were dusted off and they have been purchased, read and reconsidered. Babitz's voice is being noticed again as new readers are discovering her work. Count me among them. I took the recommendation and recently read Slow Days, Fast Company, a fictionalized journalistic account of Babitz in California in the 1970s. It's hedonism in the most down to earth terms. The book makes for an interesting read, of a moment and of a time, distant and yet surprisingly familiar.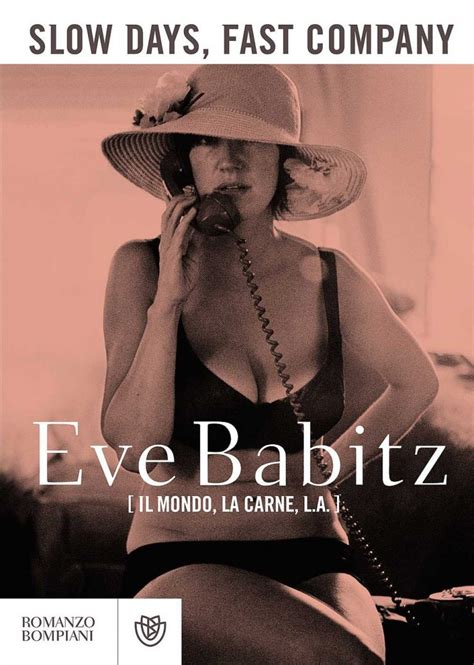 Babitz the person and Babitz the public figure are difficult to separate. She was a child of connected Hollywood artists. Igor Stravinsky was her grandfather. Her first brush with fame was being photographed, nude, playing chess against Marcel Duchamp. That image is still regularly reproduced. Babitz was an active artist, designing album covers in particular, and writing fiction and non-fiction, books, short stories and articles. She dated famous musicians and performers, from Jim Morrison to Steve Martin, Ed Ruscha to Harrison Ford. Babitz's connection to celebrities is a recurring theme in articles about her. Nonetheless, reading Slow Days, Fast Company made it clear to me that Babitz was uninterested in fame for fame's sake. She was an artist in her own right and she marched to her own priorities.
Slow Days, Fast Company is cleverly structured. Each section offers a different slice of California, each grounded in a particular place. The narrator, Babitz or a Babitz-like narrator, takes us on the journey across the state to meet her friends and acquaintances, along with a rich cast of characters, and to tell us stories. The tone is breezy, matter of fact – almost Midwestern in its sensibility. That observation, by the way, would have been greatly resented by Babitz. She's an unapologetic booster for many things California.
Amid the driving, parties, tears and laughter, there's sex, lots of drinking, and a fair bit of drug use. None of these are recounted in a titillating manner. Instead, it's on the ground reporting. It seems to be, at least to the narrator, just what one does when at a party with lots of cocaine. That's how Babitz writes, tequila and tears, smiles and champagne. There's a lot of hoping and searching in the book, but not a ton of action. It's of a piece, reflecting both a particular sensibility in a particular moment place. The days may have been hedonistic but the pace is unhurried. Through it all, Babitz's observations, her clarity of present-ness, remain a bright light.
What I found most interesting about Babitz's book is that what might at first blush seem to lure the reader isn't what she is focused on – or what keeps the reader engaged. The company may be fast but that is not what is important. Babitz is reporting in her own manner, a scribe for the restless. Thinking back to that famous photo of Duchamp, I decided that Eve Babitz would have played a pretty mean game of chess.
David Potash