Have you read James McBride's The Color of Water? Written in the 1990s, it's been a best seller ever since. McBride followed it up with other successful books. A talented musician and composer, a professor at New York University, a collaborator with Spike Lee in films, McBride is an award-winner in multiple fields, a supremely talented and prolific artist. Today he is a leading voice in American arts and letters. The Color of Water is powerful and moving. It has stayed relevant, too, especially because of how it addresses issues of race, racism and identity.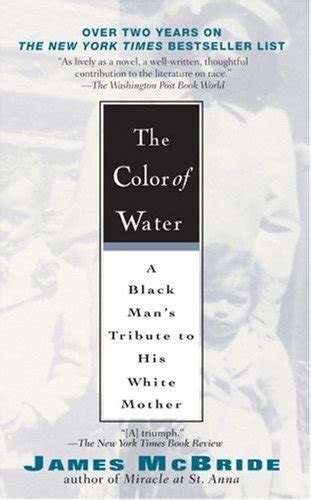 McBride's memoir is about his family, his childhood, and above all, his mother, Ruth. She was the child of an Orthodox Jewish rabbi. They emigrated from Poland in the 1920s and had difficulty adjusting to life in the United States. Her father eventually settled in the south, running a small store. A horrible person, he abused his family and exploited his African-American customers and community. Ruth escaped a terrible childhood, moving north and marrying a loving African-American man. They formed a tight bond in New York City and started a family. Sadly, he died young. Ruth struggled, kept the family together, and eventually married again. Her second husband, also African-American, was caring and supportive. The family grew larger. After a few years of happiness , Ruth was widowed yet again. This loss hit her exceptionally hard. Poverty, which was always at the door, became an even greater problem. Consider the difficulties she and her family faced, a single white women with a large African-American family, in post World War II America. Nonetheless, Ruth pulled herself – and her family together.
It was into this large family, with eleven brothers and sisters, that James McBride grew up in Red Hook, Brooklyn. He and the family faced racism, poverty, and all manner of difficulties. They also were bound together by their mother and her faith in God and education. The family, in many ways, flourished. The pride that McBride has in his family – he lists their accomplishments at the end of the book – is palpable. It's an extraordinary story.
The book's title comes from one of Ruth's observations. A woman of great faith who abandoned Judaism for Christianity, she told once James that God "is the color of water." It was her unshakeable beliefs that drove Ruth McBride and gave the family direction. The courage of Ruth and her love of her family is off the charts. She was also very reluctant to share her history with her children.
One of the book's great strengths – and it has many – is the interchanging focus, moving between Ruth's story and McBride's. It highlights the interaction of choice, family and community in the development of one's own self. McBride's writing is accessible and thoughtfully crafted. Ruth's determination, her ability to find a way to direct her life, is inspirational. She faced tremendous hardships and still raised a loving and successful family. The children all found ways to grow and find a path, each in their own way. McBride's insights, his observations and deeply felt appreciation through multiple perspectives, point to better lives and better ways to live.
More than memoir, The Color of Water is a provocative personal history that explores the complexity of identity. The book underscores the ways the society, family and personal choice can direct – or redirect – a life. It challenges expectations and assumptions. Above all, it's a beautifully written tribute to amazing woman.
David Potash