Eat alone? Travel alone? Be alone? Solitude can come with unwelcome baggage: questioning looks, lingering distrust and occasionally approbation, as if solitude equates to selfishness. Even medical science informs us that we are social creatures. So we are. But without time to reflect, think and consider, we may be far from fully realized.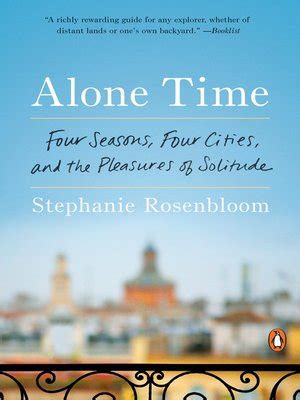 Stephanie Rosenbloom, a travel writer and journalist, makes an outstanding case for the value of traveling solo in Alone Time: Four Seasons, Four Cities and the Pleasures of Solitude. It's a gem of a short book, an easy read rich with moments. The concept is clever. Rosenbloom travels alone, walks, dines, chats and thinks in Paris, Istanbul, Florence and her home, New York City. She meets people, she asks questions – though the book is not really an exercise in deep, investigative journalism. Curious and reflective, above all, she observes. A talented writer with a gift for aligning the small perspective with the larger point, Rosenbloom takes us, the reader, as an unseen companion. She is a very good traveler and a fine confidant.
The section on Paris is the longest, most interesting and best realized. I would wager, too, that Paris is Rosenbloom's favorite. The chapter on Istanbul felt slightly rushed, as though another few weeks would have provided more material. The tourists and bustle of Florence rubbed our intrepid traveler somewhat the wrong way. While she felt connection with art, I did not get the sense that Florence truly resonated with her. I doubt that she'll be hurrying back to the Uffizi. On the other hand, being solo in her home city, New York, afforded Rosenbloom observations that felt right. I, too, can feel both at home and a visitor in Gotham. It is one of the joys of the city. The end of the book contains some helpful suggestions for solo travel.
Reading Alone Time was somewhat akin to taking a practice trip, an imaginary journey to four fascinating metropolises. It offered validation in an unexpected way to the desire all of us have, every now and then, to have a coffee or a moment by ourselves, to slow down and just watch and listen. That's a good thing, a healthy necessity in 21st century life. It is not selfish. Rosenbloom guides us, too, in ways that being alone can enhance our experiences. I found it most intriguing that often the best place to do that kind of "slow thinking" is in places filled with hustle and bustle.
David Potash