Call me an optimist, a sucker for hope, advancement, and seeing people succeed. I find stories about a person's growth and development to be inherently satisfying and consistently interesting. What's more, when done well they offer insights and lessons.
Christopher Zara's book Uneducated has a telling subtitle: A Memoir of Flunking Out, Falling Apart, and Finding My Worth. It is a fascinating account of a man's troubled childhood and difficulty journey to a professional career – all without a college degree.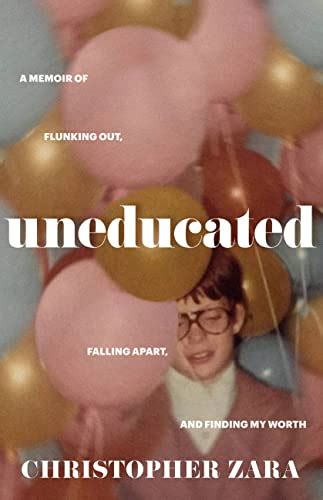 Zara was born into a working class family in central New Jersey. His parents were neither particularly supportive nor attentive, and mental health issues compounded the author's difficulties. Acting out in his teens, Zara was angry and confused. Kicked out of school, he was briefly institutionalized before moving into an un-moored decade of personal drift. Zara's description of himself, the toxic environments he was drawn to (picture shaved heads and Doc Marten boots), and the underlying lack of direction speak to difficulties many face. Zara is far from unique in his rejection of school. He wanted something and did not know what. While help with addiction was an essential step in Zara's journey, he was able to earn a high school equivalency, progress, and health came slowly. Overcoming drugs and his eventual addiction to heroin was a further problem he had to confront. Happily, Zara beat his addiction, moved several times with the hope of improving his situation, and began to find himself and his passions. Moving to New York City and using his language skills reshaped his life.
The key turning point, Zara writes, was an unpaid internship for a struggling show business publication with an abusive owner/boss. Eliding his lack of a college degree, Zara talks his way into the position and proves himself as a competent and dedicated employee. He struggles with impostor syndrome. Zara perseveres, gains more contacts, new positions and begins to write a book. There's an "aw, shucks, I didn't know ——-" throughout the book as a challenge/opportunity is identified and then overcome. It takes decades, tremendous discipline and an occasional break, but it happens. Zara writes a very successful book, becomes a well-known journalist, marries and finds stability and himself. Uneducated is his coming out, so to speak, about that journey.
Zara's fears of not getting the interview, not making it past HR without a college degree are well founded. We don't seem to have a good reasons for it as a society, but it persists nonetheless. Zara's op ed piece in the NY Times concisely spells out the consequences of bias against those without a college degree. What he does not examine fully, though, is that a degree alone does not necessarily open doors. What institution, what major, what degree are other important parts of the equation. Community college graduates more often than not only list their baccalaureate institution. Public institution degree holders often feel inadequate around Ivy League alumni. Organizations and rules to determine and allocate status is a big part of how societies and cultures operate. Status drives assumptions, opportunities, and much more of our lives that we are comfortable admitting.
What I found most interesting about the memoir was Zara's terrific smarts – he's a wildly clever and creative man – and his avoidance of the distinction between learning and credentials. He did not attend college but in no way does that mean he is uneducated. What he lacks formal education and a credential. These are very different things. Most of us in education are well aware of the difference. Had I had a chance to talk about the book with Zara, I would have suggested "Uncredentialed" as a more appropriate title. The man has experienced quite the education indeed.
David Potash