I did not see Damian Hirst's show at the Tate Modern this weekend past. Selling out quickly, the throngs were teeming and I watched people. And I took this snap once I stepped into the sunlight. No genitalia on the other side, by the way, but it's clear that the ass end belongs to the Tate.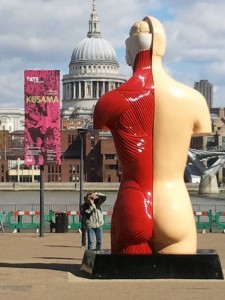 One of the more traditional ways in which the art world assigns value – collectively, of course – to works of art is the extent to which they ignore the economies of everyday life. The work may embody the time and talent of its creator. It may aspire to transcend, reaching the sublime. And lurking in the background, however, when discussing works of art is its price. The cost of a thing is what someone will pay for it – and that is its price. But its value?
One of the things that I admire about Hirst's work is his ability to make us think and to ground much of what he does in the complex interplay of price, value and cost. Like Jeff Koons, Hirst wants to make lots and lots of money. I wonder, though, whether or not he wants to make great art.
Context for Hirst's work is critical. Without context, it become pastiche, kitsch, collections, assemblies, or something odd. We will not look at it if it is not properly sited, situated and considered. Shark in tank? Fascinating, but one only stops and stares in certain environs. There's nothing wrong with generating artistic meaning from context, but it can undercut the value question and, ultimately, the issue of price. For one of Hirst's work to maintain its value and price, it either must remain in a proper context or it must become so well-known, so famous that its value is eponymous – like his diamond skull known as the "love of God."
Makes one wonder, doesn't it?