One of the challenges living close to Myopic Bookstore – perhaps Chicago's best used bookstore – is that it's convenient, inexpensive, stays open late, and (did I say this already?), is perhaps Chicago's best used bookstore. My shelves seem to fill without planning. It's not a lack of discipline, either on my part. There are just so much good things to read . . . .
Recently I picked up a novel by John D. MacDonald, one of my favorite writers. Known for his mysteries, MacDonald also penned more than a few stand alone novels. He wrote, wrote – and wrote some more. If you like his style – taut, cleverly plotted, every character sketched with care, ample philosophizing but rarely in a didactic manner – you will recognize his prose within a paragraph or two. It's tight and consistently entertaining.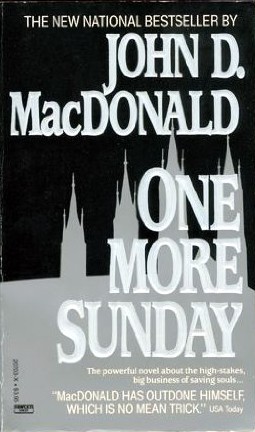 At a recent Myopic visit I picked up one of his books that was a complete unknown to me. Written in 1984, One More Sunday is a sprawling novel about a large and successful evangelical church in the South. Chock full with a wide range of characters, the book is also about good and bad behavior. In fact, most of it is about wickedness. It covers the loss of faith, lust, adultery, envy, lying, murder, extortion and theft. There's enough crime and creepiness in the book that it could veer into parody.
However, MacDonald's skill gives the reader a page-turner with tolerance, ambiguity, and more than a little reflection. He leavens the luridness with compassion. That's a welcome trait in a book that could only become an R movie.
If you run across it, give One More Sunday a chance – especially for the beach, the vacation, or when you want a high-quality diversion.
David Potash