Looking for a laugh, a diversion, a book that will make you smile? I have a reliable recommendation: Carl Hiaasen. He's a journalist, novelist and humorous who writes for adults and children. He has won awards, his writing has been made into movies, and he focuses on the eccentricities of Florida. Goodness knows that there are enough of them. Environmental issues are woven throughout his works of over the top crime and retribution. Above all, he's funny – laugh out loud funny. There aren't many writers who can consistently deliver satire and make you laugh. Hiaasen does.
Plotting and reviewing Hiaasen is a fool's errand. Like explaining a joke, it kills the fun. What I can offer, though, as a teaser to Hiaasen's amazing talent is his ability to name characters and places. His latest book, Squeeze Me, is nominally about Burmese pythons and politics in South Florida in the time of a Trump-like president. Don't worry about the plot; simply enjoy these Hiaasen names from the novel. It is a rare talent that few writers possess. Hiaasen's naming ability is off-the-charts genius.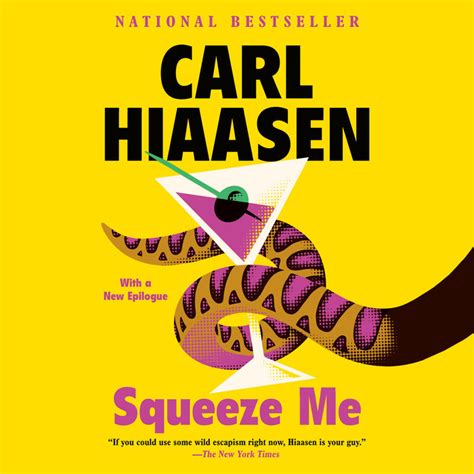 Kiki Pew Fitzsimmons is an elderly widowed and wealthy presidential supporter, whose first husband was Huff Cornbright. They had two children, Chase and Chance Cornbright. The Trump-esque president, code-name "Mastodon," regularly gets Kiki's name wrong, calling her "Kikey Pew." Fitzsimmons political friends, all wealthy widows, call themselves the "Potussies" – and their names are memorable: Faye Alex Riptoad, Dorothea Mars Bristol, Yirma Skyy Frick, Dee Wyndham Wittlefield, Deirdre Cobo Lancome, and Kelly Bean Drummond. Much of the action takes place at the resort favored by the president, Casa Bellicosa, but there's also Lipid House. Don't forget the villainous Tripp Teabull, Prince Paladin (whose real name is Keever Bracco), and Uric Burns. There's a stripper named Farrah Moans.
You're reading these aloud, right?
Spending time in Hiaasen's Florida world, where one might think that satire couldn't be possible, is reassuringly ridiculous, over-the-top, and out loud funny. He never fails to make me smile and I hope that he does the same for your, too.
David Potash