Why recommend a work that asks more questions than it answers, or suggest reading a book that tells a terrible story without a villain or resolution? Don't we seek clarity in our non-fiction? Usually I do, but I have been wrestling with this after reading Keri Arsenault's haunting Mill Town: Reckoning With What Remains. Part personal memoir, part investigatory journalism, part essay on a dying community and way of life, it is a messy and complicated book. It's also one that I keep thinking about, a book and story that touches larger issues.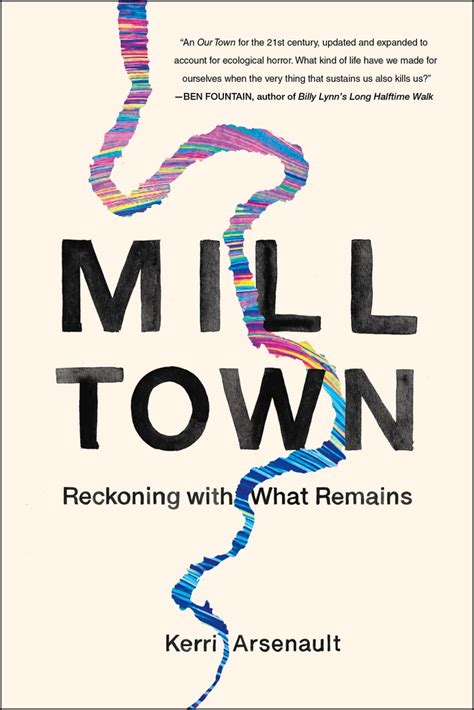 Arsenault is a writer, editor and teacher. She grew up in the tiny town of Mexico, Maine, which existed, in great part, because of a paper mill. The paper mill was the economic engine for the area and it dominated the lives of those in the community. Arsenault reflects on her childhood, what was and was not said, and the direct and indirect impact of the mill. As she moved out and explored the world outside of Maine, she began to think more critically about her childhood community. Increasing numbers of illnesses and cancer deaths deepened that process, particularly with the death of her father. The book is a investigation of her community, a hard look at what can and cannot be know about the town and the great costs of working for and around a paper mill. What is a "mill town" today?
Mexico is an insular, tough community, like many other working class towns. People try to take care of each other and they tend to suffer quietly. Once Arsenault taps her personal connections with townspeople, she collects more and more stories of difficult lives, rare cancers and quiet struggles. She finds inconclusive studies, ineffective environmental agencies, and a terrible sense of powerlessness. Her writing throughout is lyrical, honest and descriptive in a way that explains without filling in the silences. Members of the community are not given to emotions and expression. We can smell the chemicals, see the darkness of the forest, and recognize the small spaces of light, love and caring in the community.
Arsenault is strongest, I think, about her family and her personal story. Her family and friends, her jobs and her day-to-day attempts to navigate her home ring extraordinarily true. She gets it and she writes about with clarity, avoiding nostalgia and pathos. Nor does she cast blame; she has deep understanding. She uses the town's river both as a narrative fixture in the book and also as a metaphor as it sweeps us and carries things along.
That all said, Arsenault is keen on shining lights on the great injustices faced by the people in and around Mexico, Maine. There are poisons in the air, soil, water and everyday environment – and no one is willing to own up to their risks or consequences. Science, after all, is rarely completely conclusive. It is enraging and all too understandable. Like Fagin's Toms River – another study of a community and its environmental poisons – Mill Town calls into question a way of life and way of living.
So why recommend the book? Because Mill Town is a incisive and thoughtful study of us and our communities – and the costs that we are bearing for them. It is, in many ways, a reckoning, an accounting of benefits and loss. That's extremely important for making sense of our today and considering what sort of tomorrow we might want for ourselves and our children.
David Potash