Back in the day, I grew up in New Jersey. It is easy to stereotype the Garden State, from the "Jersey Shore" to Atlantic City to Frank Sinatra's Hoboken. But for those who have lived there, we know that the state's diversity resists easy simplification. It is densely packed with history and people, rich in cultures and distinctive communities. The northern part of the state skews to New York City, the southern part is influenced by Philadelphia. It has great poverty and tremendous wealth, rural farmland and robust cities, all surprisingly close to each other. It is, in no uncertain terms, a complicated place without multiple sites and sources of identity.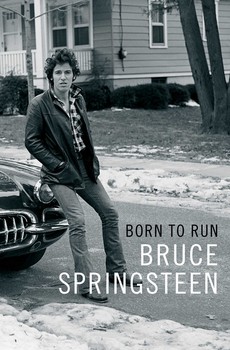 Jersey heritage figures prominently in my reading of Bruce Springsteen's wonderful autobiography, Born to Run. Springsteen has become many things to so many people throughout the world over the years. That kind of impact first took place in Jersey back in the 1970s. Appointed and anointed as perhaps the state's only unifying force, Springsteen made fantastic music that spoke to northern Jersey, southern Jersey, to rural Jersey and urban Jersey, in the burbs and down the shore. I heard bar bands cover Springsteen, give tribute to Bruce, and do a good job with "Rosalita" just a few years after the album "Born to Run" was released. He is a New Jersey state treasure. How did it do it?
Springsteen has a way with words, in music and on the page. He's a genius – and it is a beautifully written book. It is frank, candid, dark and optimistic. Springsteen's focus is, rightly, on his journey – and not the reasons that so many of us see him as ours. His prose is grounded in "how": how he grew up, how he was loved and rejected, how he developed his career, and how he dealt with his battles, failures, and successes.
We know that Springsteen has tremendous talent and is a great showman. His autobiography highlights that wrapped up in the very core of the man is discipline and an extraordinary work ethic. The artist "Springsteen" is an authentic creation, the outcome of thoughtful choices and boatloads of effort. He worked at his music, his career, his image and, in many ways, his friends and family. He has struggled with depression. He has consistently mined his pains as catalysts of creativity. It has not happened easily. While we may think of it as just the triumph of talent, the book makes clear that it has happened through deliberate hard work.
Born to Run left me with more admiration for Springsteen, more understanding of him, and appreciation for the pain that has haunted him. His father's mental illness, the challenges of his childhood, and his demons have been real and powerful. It is a testament to the man that he has had the gifts, skill and temperament to use them and much more to make music that the entire world sings. I will re-read Born to Run. It will be worth it, just like revisiting older Springsteen favorites.
David Potash
And a big thanks to my sister for giving me the book!