Mike Royko is a Chicago legend. A giant in American journalism, he wrote thousands upon thousands of columns. Most were about Chicago – its neighborhoods, its characters, its perennial hapless Cubs. For those of us who read his syndicated work – he died in 1997 – Royko's perspective shaped our understanding of America's Second City.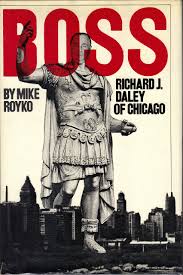 I have lived in Chicago just under two years. Dipping into Royko now and then has been interesting. What has been truly informative, though, is reading Royko's best seller, Boss, an unauthorized biography of long-term Chicago mayor Richard J. Daley. Written in 1971 and reflecting the political and social upheaval of the period, Boss is a brilliant work of history and commentary. Royko is an amazing writer.
A short read with punchy sentences and a master's flair for capturing the feel of a group and the nature of a person, Boss captures the rise of Daley and Chicago. The first mayor Daley was brilliant, ambitious, anti-democractic, and relentless. A product of the neighborhoods with a keen understanding of power, he brought tremendous benefit to the city at tremendous cost. Daley defined much of Chicago in the 1950s and 1960s. Inspiring both admiration and hate, he was a fascinating figure whose priorities, values and vision are visible in Chicago today. Controversial does not begin to describe Daley.
Truly outstanding biographies do much more than explain an individual. Like Robert Caro's four volumes on Lyndon Banes Johnson, Royko's book sheds as much light on context as subject. The complexities of America's post-wire economic boom, the prosperity and racism, the conflicted ways in which we thought about cities, are all part of Royko's narrative. The very concept of "downtown" is best understood in a context of geography and time. Royko gets this – and also how Daley and his contemporaries thought about it.
Boss is still a relevant book, well worth your time and consideration. And it is particularly relevant as we ready for Chicago's first "real" mayoral election in decades. We live in a much different Chicago today – yet the legacy of Daley still looms.
David Potash