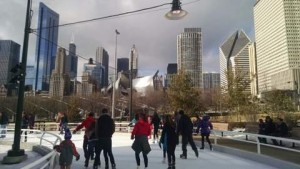 Skating rinks are, by definition, rinky. You skate in a circle and then, after the Zamboni, if you are lucky, you skate in the same circle in the other direction. Great rinks have great views; mediocre rinks have little or nothing to see. Good rinks make you feel fast and accomplished. Bad rinks are easily recognized by their bad ice, overpriced snacks, and loud distorted music, usually pop rock hits from two decades hence. I think "Slap Shot." For those of us who are no great shakes on the ice – and I count myself among them – the pleasure derived from a skating trip often happens in spite of the rink.
Those dynamics have changed. I recently had a chance to enjoy the J.B. and M.K. Pritzker Family Skating Ribbon, the new ice skating feature at Maggie Daley Park. It was a delightful skating experience, probably my favorite ever, save a time on a frozen lake in my teens. Planners have abandoned the rink in favor of a trail. The ribbon twists and turns for a quarter-mile through Maggie Daley Park in downtown Chicago. And even though the lockers are not all ready, the food vendors have yet to set up, and construction crews are still around, it is lovely. Chicago has moved beyond the rink. It is something special.
Circling the Ribbon was a good time to look around. Chicago may not be perfect, but it truly features a truly world-class downtown. Folks journey from all over the world, in great numbers, as any local can attest. Particularly in Millennium Park. Our downtown enjoys beautiful vistas, inspirational architecture, and public spaces that make you feel good to be alive. I am a sucker for a good downtown and Chicago's makes me smile. Especially on the Ribbon, which is spectacular. I encourage you to give it a whirl – and most definitely bring your own skates.
David Potash