Exit in Guyville is a brilliant debut album. Liz Phair put it out in 1993, while living in Chicago, and she followed it the next year with Whip-Smart, another strong effort. I remember buying both all those years ago and noticing her lyrics. They were pointed, thought-provoking, and carefully crafted. Phair struck me as something of a poet. Her lyrics stuck with me more than her melodies.
Over the years I lost track of Phair as a musician, though I did see her perform. She came out with a memoir in late 2019.
Horror Stories is Liz Phair's wholly original, non-glamorous, non-rock star memoir, though she is most definitely a rock start. It is a unique sort of work, off-kilter and de-centered. It highlight's Phair's way of looking at the world and her life. Her perception, candor, and ability to look at things differently gives the work an unusual flavor. She tells us in the introduction that she wrote it "to articulate those experiences that people may not always want to recognize, but describe them in a way that makes them worth the effort." It is worth the effort. Had Phair not fashioned a career as a musician, she could have given it a go as a writer.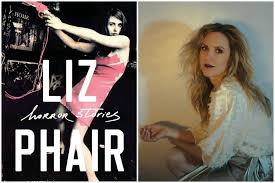 Phair's non-chronological observations range from childhood to where she is know. She notices things, big and small, and describes them with intensity and feeling: from a girl who passed out to a break-in at college to her thoughts while being made-up for a photo shoot. She brings care and honesty to these moments, explaining quite a bit about her, her privilege, talent, pains and suffering. More intentional than a flaneur, she is a smart woman with creative edges.
What Horror Story lacks is structure. If you give it a chance, Phair's creativity and voice will carry you along.
David Potash